Esaki (えさき) - Japanese *****
Address - 東京都渋谷区神宮前3-39-9 ヒルズ青山地下1階map
Opening hours - 12:00-14:00 (Thu-Sat only), 18:00-23:00 (LO 21:30)
Telephone - 03-3408-5056
Menu - In Japanese only
Credit Cards - OK
Michelin 2008 - 2*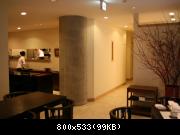 Five minutes by foot from the Gaienmae station, on the Ginza line, this restaurant is in the basement of a building located in a quiet neighborhood. Outside stairs lead to the entrance of the restaurant, and a large bay window allows guest to immediately peak inside that place. There is limited seating only, with about 4-6 tables, a counter (with the kitchen behind it) and a tatami room. The design is clearly modern - white naked walls, a concrete pillar and dark wooden furniture, but the place is welcoming with its large ikebana.
We visited this place for lunch, as it offers an incredible great price for a 5-course menu : 3645 yen! This course includes 4 dishes, a dessert and tea/coffee; for 5250 yen, you get an extra fish dish. There is no selection offered inside the course, all is chosen by the chef.
Our course started with a mini-risotto served in a shell with a
sato-imo
deep-fried to the perfection - just crispy outside and absolutely not oily at all. The next dish was a
kampachi
sashimi from Kagoshima, served with an original topping of carrot and kiwi and fresh wasabi; this was the only disappointment of the lunch, as I found the fish a little hard. It was followed by a soup with vegetable and mashed
sato-imo
potato covered by
senbe
(a kind of Japanese biscuit). This again was really excellent, and definitively original.
The rice dish was rice sauté with
tai
fish, vegetables with mushrooms and a red miso soup with
tororo
in it. The rice was especially tasty, and the miso used for the soup was excellent - I was told it was from Nagano.
Finally, the dessert was a creme brulée of custard cream with beans - a very fitting dessert, but a great one, even if I normally don't fancy Japanese sweets very much.
Overall, the lunch was very nice, and I would clearly recommend this place. I need to add that the plates and bowls used to serve the food were, as they should be, very elegant, and that the service was effective and pleasant. The only problem with Esaki is rather unusual: there is only one toilet (a very nice one by the way), so customers have kind of queue to be able to visit the bathroom, especially at the end of the lunch when everybody has the same needs...
Menus :
lunch - 3645円 & 5250円
dinner - 8400円 & 10500円
Internet -
www.aoyamaesaki.net