Yonetsu (よね津) - Japanese izakaya *****
Address - 3-4-13 Takaban, Meguro-ku
Opening Hours - 17:30 to 22:00 (LO), to 21:00 (LO) on Sun/Hol. Closed on Mon + 1 other day per month
Telephone - 03-3716-5991
Menu - in Japanese only, no picture
Credit Cards - not accepted
I discovered this address on the
excellent restaurant guide from seat
, and decided to give it a try. The least I can say is that I was not disappointed. Indeed, this is becoming one of my favorite Japanese restaurant in town!
Yonetsu is a small place located about 2 minutes by foot from the Gakuei-Daigaku station on the Toyoko line linking Shibuya to Jiyugaoka (and Yokohama) (Ltd Express trains do not stop at this station). There is seating for 15 guests, including 1 table and a long counter; the seats closest to the entrance are non smoking. With this design, the whole cooking area behind the counter is in full view, and the guests can enjoy watching how their food is prepared. A very friendly middle age couple is working there; they take time to recommend their best dishes and nihon-shu, so even if you can not read the menu in Japanese, you will be able to enjoy this restaurant.
We first order deep fried whale (
kujira katsu
, 鯨カツ), and were immediately pleased to see the attention given to the preparation of the food; long whale steaks were taken out of the fridge, cut in cubes, dipped in egg yolk and bread crumble, before being deep-fried and served to us: this was very refreshing, when you consider that normally such food is prepared well in advance and just fried when ordered. The home-made sauce was perfect. With that we had fried gori (四万十川ごりの唐揚げ), small river fish in tempura style.
Sanma sushi had very similar taste to
kaki no ha sushi
, a specialty from Nara-ken where sushi are wrapped in persimmon leafs; the rice was especially tasty, containing some sesame. Willing to continue with raw fish, we asked for a suggestion and received
katsuo tataki
(raw bonito barely grilled); Katsuo is a very common sashimi, but this one was the best I have eaten in Japan so far! It was grilled directly on the gas burner of the kitchen, and served with 8 small side-dishes (including
enoki
mushrooms, sliced garlic, vegetables).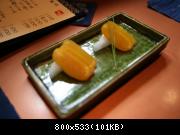 Asking the chef to prepare something really nice, we were served
karasumi
.
Karasumi
(カラスミ, 鱲子) is one of the three most famous
chinmi
(珍味, literally meaning "rare taste"), a specialty of Nagasaki made by desalinating salt pickled mullet roe and drying it under the sunlight. It is difficult to describe the taste... But it is definitively very subtle.
What about drinks? Upon arriving, I immediately noticed a bottle of Azuma-Ichi (東一), which is my favorite nihon-shu but is difficult to find in the Kanto area (it is produced in Kyushu). I was told that this sake is coming from Kyushu together with the fish! I of course ordered this nihon-shu, as well as others that were reasonably priced (700-800 yen each); Nihon-shu is served is nice bowls, and customers can choose the cup from a selection of models...
Altogether, the bill reached 5500 yen per person for food and drinks. For such a great food in such a friendly place, this is an unique bargain.