Yokoya Onsen Ryokan
- 横谷温泉旅館
Perfect gateway for a relaxing week-end: a very large and comfortable hotel/ryokan in Tateshina Kogen with great food, excellent service and nice onsen.
web -
www.yokoyaonsen.com
address - 〒391-0301 長野県茅野市北山5513
phone - 0266-67-2080
Google map with location
---
This ryokan has 80 rooms. Most of them are extremely large: the web site annonces rooms from 10 to 15 tatami, but we even had 2 rooms of 9 tatami each just for 2 persons. Those rooms can accomodate 2-6 persons, but the discount for being 6 in the same room is so low that probably it is worth to book separate rooms...
Rooms have toilets & bath, as well as a fridge. There are large heaters, which are very useful in winter!
Food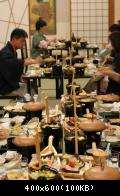 We were very much surprised by the quality of the food served, especially considering the raisonnable cost of the stay. Guests are eating in several dining rooms, just follow the corridor until you find your name next to the door. The dining rooms are large, tables are far from each others and the high ceiling is illuminated by traditionnal paper lamps. While the floor is made of tatami, all guests eat at classical tables. It seems that very large groups can have private room and classical japanese seating directly on the tatami.
Part of the food was already waiting for us on the table; as soon as the guests sit down, fire is lit under the individual nabe (we were served wild pork). All the usual dishes were served (sashimi, EGG, grilled fish), and hot tempura were brought later. While they are eating, a chef is preparing home-made soba which are served later. Soba making seems to be a speciality of the ryokan, as lessons are given to guests who want to learn how to prepare them.
A small glass of local red wine is offered, too.
Not only the ingredients were of high quality, but the high quality service made the whole evening extremely enjoyable. Sake amateurs will enjoy a small choice of excellent nihonshu, which are reasonnably priced.
Onsen
Baths are segregated. The color of the water is red, as there is a significant amount of iron in it. There are inside and outside baths.
Men's rotenburo are located along the river, and you need to walk a little to reach them - which can be rather unpleasant in winter, when you are barefoot and the soil is frozen!
Women's baths are mostly covered by a large wooden roof, but the "outside" bath is larger.
Access to the bath only for day-trip visitors (日帰り) : 1500 yens, from 12:00 to 15:00 and 19:00 to 21:00. The bath itself is probably not worth that much of money.
Extra activities
Many activities are proposed. On Saturdays, there is a free concert in the main entrance hall. Some massages are also available - and I was told they were great.
Access
The easiest way to reach the ryokan is to go by car. It takes about 30 minutes from the highway exit Suwa (諏訪IC) on the Chuo highway; this exit is reached in 2.5 hours from Tokyo and Nagoya.
From Suwa exit, take the road 152 and 299 to the ryokan.
Access by bus is more complicated, although you can take a Chuo bus from Shinjuku to Chino (茅野, 2h10, 5'870 yens), and then a taxi (20 minutes) or another bus (35 min, 800 yens) to the ryokan.
Around
Nippon Pilatus Tateshina
: a famous ski resort in Nagano-ken, with its characteristic mountain which ressembles to the swiss Mt Pilatus.
Shirakabako Lake
: a mountain lake and a resort station both in winter & summer. Two ski fields (but small ones) and several onsen.
Reservations
are to be made directly from the
jalan.net
web site (follow the link to get directly there).
Prices change with the season, but start from 9'000-11'000 yens per person (including dinner and breakfast, with 2-6 persons per room). Considering what the place has to offer, it is a true bargain!