The first Japanese photography was taken in 1857 by Ichiki Shirō (1828–1903), who made a calotype of Shimazu Nariakira, his clan chief. Shortly later, among the first Western voyagers arriving in Japan were some photographers, including the British photographer Felice Beato (1833 or 1834 -
ca.
1907) who arrived in 1863 and opened a commercial photography studio in Yokohama.
One of the famous photographer from that early Taisho period was
Enami Nobukuni
(江南 信國, 1859-1929) who signed his work as
T. Enami
. He was very prolific and worked on all popular format of that time, including on stereoviews. He also published many pictures of Japanese monuments and landscapes, and was a contributing photographer to the National Geographic.
Since he published many pictures from places in Japan that are now tourist destination, it seemed interested to display some of the most famous ones.
Tohoku
Matsushima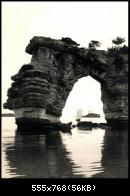 Kanto
Tokyo
Yokohama
Kamakura
Enoshima
Hakone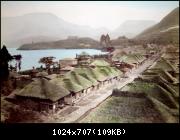 Yamanaka Lake
Chubu
Asama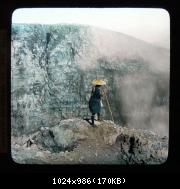 Nakasendo
Nagoya
Kansai
Kyoto
Nara
Hikone
Chugoku
Miyajima
Iwakuni
---
One of the technique used by T. Enami is the use of stereoviews - those two pictures places one next to another which, when looked up with special glasses, give the impression of seeing a 3D-picture. You can see the effect by alternating quickly the two images, as on this pictures of workers at Inani Jinja in Kyoto :
If you like this, check the following as well :
Tokyo Ueno :
http://img641.imageshack.us/img641/9485/tokyoueno.gif
Nikko Chujenji Road :
http://img714.imageshack.us/img714/3737/nikkochujenjiroad.gif
Nakasendo Mt-Myogi :
http://img714.imageshack.us/img714/3338/nakasendomtmyogi.gif
Kyoto Kitano :
http://img641.imageshack.us/img641/7278/kyotokitano.gif
Kyoto Inani Jinja :
http://img641.imageshack.us/img641/3693/kyotoinanijinja.gif
Kamakura Daibutsu :
http://img63.imageshack.us/img63/5954/kamakuradaibutsu.gif
---
There are several excellent resources on the net about T. Enami and its work.
The reference if www.t-enami.org - lots of pictures, a detailed biography.

Pink Tentacle has an excellent thread on those animated stereograms