Shikinejima (式根島) is a small island located at about 150 kilometers from Tokyo, and is part of the Izu Seven Islands. This island is especially known for its beaches and onsen. Although it can be easily accessed by boat (either using an overnight passenger boat or a fast jetfoil), it is rarely crowded, and therefore a very interesting destination from Tokyo.
Map of the island:
If you need a more details map, especially to find the location of a minshuku, you can find one
here
.
View from a plane:
source :
http://www10.ocn.ne.jp/~shikikyo/shikinejima
---
Going around
Although you can walk around the island, we would recommend renting a bicycle for the day. It will cost you around 1000 yens, and you will be able to enjoy the remote spots, too. Be aware that the island is far from being flat, and going around can be a little demanding.
What to see & do
Quite surprisingly, Shikinejima has also a couple of attractive
onsen
, which are located on the southern coast, a couple of meters from the sea: Ashitsuki and Jinata Onsen.
Those onsen are refilled by the sea at high tide, the onsen temperature will significantly decrease. When low tide is reached, the onsen is no more in contact with the sea, and the water temperature will start to rise, until being unbearably hot. The process will then start again. This is to say that you might want to carefully check the water before dipping!
Due to their iron content, all onsen are more of less reddish. Bathing is mixed, but unlike traditional baths, a bathing suit is mandatory! Those onsen are quite famous in Japan. Even during the Second World War, their healing power was recognized, and it was even planed to send there wounded soldiers to allow them to be ready to fight again as soon as possible (this project finally was given up when Japan lost the war).
Ashitsuki Onsen is located near the harbor of the same name, in not-so attractive surroundings.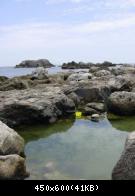 Jinata Onsen, on the other hand, is isolated from the rest of the island by a hill, and reached though a gorge. At night, it is really completely isolated, and a great place to bath (bringing a torch would probably be a good idea)!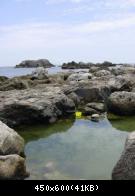 Best
beaches
on Shikinejima are located on the north shore. The most famous is probably Ohura Beach, a beautiful nice moon-shaped beach in a cove. There is a free camping field close to the beach. Nakanoura beach, where barbecue spots are available, is located nearby.
For a great
view point
, head to Kanbiki Observatory. You will have a 360 degrees view on the island, and might even see the other Izu seven islands.
For adventurous ones, try some
scuba diving
! In Okama Bay, you can even see an underwater onsen…
Please keep in mind that there is only one ATM machine, available at the post office. Most shops do not accept credit cards.
Other pictures: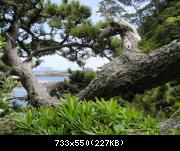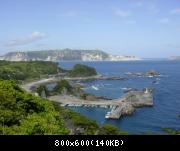 ---
Lodging
http://yado-japan.com/stay.tokyo-islands.data.html
lists all minshuku on all Izu islands, including around 17 minshuku on Shikinejima. It typically costs between 5000 and 8000 yens per person and per night, including dinner and breakfast.
During Golden Week, as well as in Summer, there is also a free camp site available, next to Ohura Beach.
Tourist information centre can help you to make a reservation. The telephone number is 04992-7-0170.
---
Access
General access map (Shikinejima - 式根島 - in red):
The Tokaikisen company offers several regular connections to reach Shikinejima island from Tokyo by boat.
http://www.tokaikisen.co.jp/
Boat are leaving from the
Takeshiba Passenger Terminal in Tokyo
:
The terminal is reached from the following stations:
JR Yamanote line: 7 minutes from Hamamatsucho station
Yurikamome line: 1 minute from Takeshiba station
Subway line: 10 minutes from Daimon station
Phone : 03-3433-2101 (from 6:00 to 8:00) and 03-3433-1251 (from 8:00 to 22:00)
Complete timetables :
http://www.tokaikisen.co.jp/ship/jikoku.html
By express jetfoil
This is the fastest way to reach the island from Tokyo. The journey takes 2h25, and costs from 8000 yens per journey (prices change with the season, and can reach up to 15'000 yens).
By normal passenger boat
A nice overnight trip from the capital to Shikinejima with the following
schedule:
Tokyo 22:00 – Shikinejima 9:05 (next day)
Shikinejima 11:50 – Tokyo 19:10
This boat is running every day during the busiest seasons, but only during the week-end the rest of the year – check the web site for more details. The one-way starting price is 5120 yens.
An alternative is to use the Shinshinkisen boats, which are leaving from
Shimoda
at the southern tip of Izu (Shizuoka-ken).
Phone : 0558-22-2626 (from 6:00 to 8:00) and 03-3433-1251 (from 8:00 to 22:00)
By passenger boat
One boat is making the round trip Shimoda – Toshima – Niijima – Shikinejima – Kouzushima – Shimoda on Tuesday, Friday and Sunday, and in the opposite direction on Monday, Thursday and Saturday. It takes about 3h40 from Shimoda to Shikinejima, costs from 3600 yens, and the boat leaves from Shimoda at 9h10.
Finally, there is also a boat, the Nishiki 2, making the journey between
Niijima
and Shikinejima three times per day (420 yens)
http://www.niijima.com/nishiki/index.html
---
Links
Shikinejima official home page :
http://www.niijima.com/sh
- General information, only in Japanese
http://www.tokyo-islands.com
- Informative web site on all 11 islands that belong to Tokyo district. Details on transportation and famous spots.
http://www4.ocn.ne.jp/~chiyoya/yado/index.htm
- Web site in Japanese of the minshuku Chiyoda, which offers accommodation with two meals for 6000 yens, as well as bicycle and car rental (from 1000 and 300 yens, respectively). Their web site is informative, with many pictures of Shikinejima.
http://park5.wakwak.com/~izushichi/shikine/link.html
- List of links related to Shikinejima, including web sites of several minshuku.