Hanami, for hana (花, flower) and mi (見, see) is one of the most traditional events held in Japan. From the end of March to the end of April (depending on the weather and the areas), millions of Japanese will join parties under cherry trees or travel to see cherry blossoming around the country.
This custom is believed to exist since the 7th century, and became very popular during the Feudal period, associated with the live style of samurai. Indeed, it was so associated to this period that at the beginning of the Meiji period, the Emperor ordered almost all cherry trees in Tokyo to be cut down! The particularity of cherry trees found in Japan is that their flowers are not lasting long – typically 10 days to 2 weeks.
People partying under the trees are usually sitting on large blue plastic construction sheets that can be bought in any convenience shop at this period of the year. Most of the groups will be drinking – an activity that seems to justify hanami by itself – eating, chatting, and even singing (some groups are really organized, bringing tables, chairs, portable fridges, barbecue, stereo system with karaoke, etc). It is usually possible to buy food and drinks from street vendors, but not in all places (in some parks, you might need to bring your own food and drinks).
Keep in mind that when hanami is held in Japan, the weather can be chilly, especially in the evening.
Here is a list of good spots to enjoy hanami in Tokyo!!
---
Ueno Park
Probably the most famous cherry blossom spot, with more than 1000 trees; It is also one of the most crowded! Cherry trees are located between the Ueno station, the National Museum and the Shinobazu Pood. Apart of salarymen sitting, drinking and eating, you will find tens of thousands of people walking around, and huge trash spots. The whole area is very noisy in the evening, but access is free of charge. And unlike most parks in Tokyo, this one is open 24 hours a day.
If you plan to enjoy hanami there, you ought to arrive quite early in the morning to reserve a spot, as all places are filled very quickly (you do not need to stay there until the evening, usually leaving a blue sheet with you name is enough to guarantee the place won't be taken). If you are a small group, you might prefer to find a place next to the Shinobazu Pond. Some food is available around, but you better bring your own.
Access:
3 minutes by foot from JR Ueno station.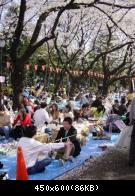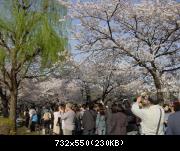 Shinjuku Gyoen
A completely different way to enjoy hanami! This huge park (58 hectares), with 20'000 trees and more than 1000 cherry trees, is only open from 9:00 to 16:30 (last entrance: 16:00; last entrance to the green house: 15:00), and cost 200 yens. Mixing European as well as Japanese traditional gardens, this imperial garden was completed in 1906, and opened to the public after the Second World War. Cherry trees were present at this location already at the Edo period. When the Meiji government came to power in 1868, it ordered most of the cherry trees in Tokyo to be cut off, since they were so much associated with the feudal period, but spared this area. There are now 75 different types of cherry trees, with white, yellow or pink flowers that blossom over a one-month period (usually middle of Mars to middle of April).
Arriving before 10:00 on Saturdays and Sundays would guarantee you a nice spot for your picnic, but the park is so large that you probably always will find an empty spot. The areas around the lakes are the most interesting ones, with many cherry trees. The entrance can be crowded in the morning, so it is better to meet your party inside the park. Note that bringing alcohol inside the park is not allowed – although nobody seems to really follow this rule... No food nor drinks can be bought inside the park: don't forget to take your own lunch.
Access:
From JR Shinjuku station south exit, about 10 minutes, or from Shinjuku-Gyoenmae on the Maranouchi subway line.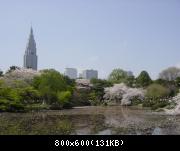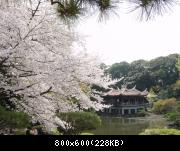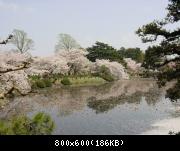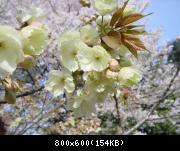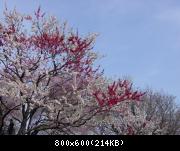 Link:
http://www.shinjukugyoen.go.jp/english/english-index.html
Chidorigafuchi
Just north of the Imperial Palace lays Kitanomaru Park, house of the Nippon Budokan, the Science Museum, the Museum of Modern Art and the Crafts Gallery. On the other side of the shore can be found Chidorigafuchi, an avenue of cherry trees located just next to the water – indeed, branches covered by sakura flowers are almost touching the water. This avenue, about 400 meters long, is one of the famous hanami spot in Tokyo. All together, around 320 cherry trees are seen on both shore of the water.
Although there is no place to sit down and party, a continuous flow of Japanese can be seen there, especially at night, when the trees are lighted and glowing in the dark. An alternative is to rent a boat: for about 600 yens per hour, you will be able to row under the trees and escape – a little – from the crowd. You however will have to wait for an available boat... Food stands can be found at the nearby Yasukuni shrine, which also hosts many cherry trees.
Access:
Just a couple of minutes walk from Kudanshita station on the Shinjuku line, the Tozai line and the Hanzomon line.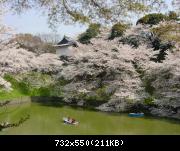 Koishikawa Botanic Garden
The Koishikawa Botanic Garden is open from 9:00 to 16:30, except on Mondays. With 16 hectares, this oldest botanic garden in Japan (opened in 1684) belongs to the University of Tokyo. This garden is an ideal place to observe many different types of cherry trees, which are all labeled.
The entrance is 330 yens.
Access:
5-10 minute walk from Subway Hakusan or Myogadani Station
Link:
http://www.bg.s.u-tokyo.ac.jp/koishikawa/eigo/e.html
Koishikawa-Korakuen
Built in the early Edo period (1629), this is one of the oldest parks of Tokyo. It was designed under Chinese influence, reproducing a man-made hill next to a pond. Famous for its plum festival in late February and for koyo in November, this park also has some nice sakura trees.
Admission to the park costs 300 yens, and the park is open daily. Even if it is not usual, we sometimes could see people partying under the trees.
Access:
3-5 minutes walk from Iidabashi station (Oedo line, Marunouchi line, Yurakucho line, Nanbuko line) and 8 minutes from JR Iidabashi station (Sobu line)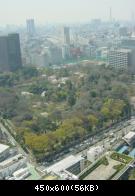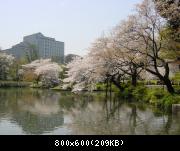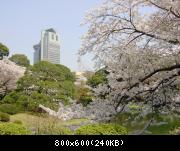 Sumida Park
Near the tourist spot of Asakusa, this park is located on both shore of the Sumida River. Mostly on the west side, there are more than 1000 sakura trees, making this area one of the most famous place for enjoying hanami in Tokyo. A matsuri (festival) is held there during the cherry blossom. Hanami can also be enjoyed from the boats that cruise on the river.
No entrance fee, and food stands are available.
Access:
2 minutes walk from Asakusa Station (Ginza line, Asakusa line)
Aoyama Cemetery
Not as depressing as it could seem! Sakura trees have always been associated with death – perhaps due to the short live of the flowers – so observing the trees from a cemetery might be interesting. The main road crossing the cemetery is surrounded by hundreds of cherry trees.
Although there are a few food stands available, it is not the place to party in groups, as you can imagine. Entrance is free.
Access:
5 minutes by foot from the Nogizaka station, 10 minutes by foot from the Aoyama or Gaienmae stations.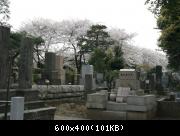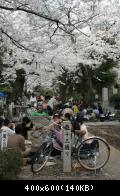 ---
Some general links:
woman.excite.co.jp/garbo/sakura
www.walkerplus.com/hanami
www.mapple.net/sp_sakura
www.rurubu.com/season/spring/sakura
Databases on the hanami spots, all around Japan (in Japanese)
www.weekender.co.jp/new/guides/guide-hanami.html
The same spots in Tokyo (in English)
www.japan-guide.com/e/e2011_where.html
List of popular cherry blossom spots around Japan (in English)
www.japan-guide.com/e/e2011_species.html
Type of cherry trees (in English)
hccweb5.bai.ne.jp/nishicerasus/index2.html
Comprehensive list of sakura flowers (in Japanese)