Yuba Tofu Hakkakuan (八かく庵) - Tofu restaurant *****
Address - 東京都新宿区西新宿3-20-2 (in Opera City building, on the 53F) 
Opening hours - 11:30 to 15:00 (LO 14:00), 17:00-23:00 (LO 22:00) 
Telephone - 0120-88-3682
Menu - In Japanese only
Credit Cards - OK
While a little off the tourist tracks, the Opera City building in Hatsudai (just 1 station on the Keio line from Shinjuku, and a couple of hundreds meters from the Park Hyatt, offers a beautiful view on the town from its top floors (53F and 54F). There are several restaurants there, including Hakkakuan, a restaurant specialised in home-made tofu.
I only tried it for lunch, but was really impressed! For 1500 yen, you get a nice teshoku set (typically different types of tofu, tempura, fish, rice, miso soup and pickles), plus a big bowl of home-made tofu which will be refilled at will; this tofu is to be eaten with dashi soup and some salt.
While I am not really a fan of tofu, I was impressed by the quality of the food served there. This is a place I will be going back...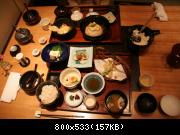 Internet -
www.tokyooperacity.co.jp/commerce/view_2.htm
(on the middle of the page)
Internet (gnavi) -
r.gnavi.co.jp/g851532/map1.htm