Shirahama
- Famous Shimoda beach with many resort activities
One of the most famous beach. A little far from Tokyo, but the sand is great and the sea beautiful. Snorkeling and diving are also possible in the area. Furthermore, there are many smaller beaches around Shimoda, if you have a car, you will probably be able to find some uncrowded place.
Juppama
- beautiful beach, nice scenary and calm surroundings
Much smaller than Shirahama, this beach is at the same time calm and popular. Best accessed by car (parking lot 1000 yens per day), you reach the shore by going down a couple of hundreds stairs. The clean sandy beach is surrounded by large rocks, and opens toward the west coast of Izu. The nature around the beach is attractive, mostly untouched and with lots of vegetation. Even better, there is neither attraction nor shop on the beach itself. Showers are available next to the parking... for 300 yens per 90 seconds!
Some trip report with pictures in Japanese :
http://alohakumax.sakura.ne.jp/izu_kuju.htm
---
Enoshima
- very lively beach in summer, especially popular among young Japanese
Enoshima is extremely popular in July and August. During that period, the beach is packed with huts offering overpriced drinks, food, showers and music. It is then often difficult even to enter in the water... If you don't like Shibuya on Saturdays, don't visit Enoshima beach in summer! On the other hand, the small town is very lively, as many young people just walk around in swimming costume, sometimes with a board in their hands. The beach and water are also not extremely clean, but it is still acceptable. Note also that the beach is partially shelthered by the Enoshima island and the harbour built on it, so you don't really have the feeling of swimming in the open sea.
Inamuragasaki
(稲村ヶ崎) - ideal place to bath away from the crowd
When Kamakura and Enoshima are packed with bathers, head off for Inamuragasaki, a small beach located between the two towns and readily reached using the Enoden line. There is absolutely no facility on this stop, but the sand and water are quite clean. There is a nice ethnic restaurant with a terrasse just on the other side of the road. An ideal place to enjoy the sunset, as the Fujisan can be seen from there (weather permitting, of course).
Note that nearby Shichirigahama beach (七里ヶ浜) is not opened to swimmers, but reserved for surfers.
Access : Take the Enoden from Kamakura (11 minutes, 210 yens) or from Enoshima (13 minutes, 210 yens); it is also possible to walk (20-30 minutes from Hase station, next to the Daibutsu).
Yuigahama
(由比ヶ浜) - lively beach of Kamakura with not so clean water and sand
Apart of its Daibutsu (Great Buddha) and fantastic temples, Kamakura also has a beach! A 10-minute walk from Kamakura station will bring you there. There are lots of animation in July and August, when huts are built on the beach, offering drinks, foods, music, hot showers... Also, regular beach sports are found there : beach volley, sailing. Extremely busy and crowded during those two months, the beach is miraculously empty from the 1st of September (which also means no more showers and facilities). The beach is quite popular among foreigners.
On the minus side, the beach is often a little dirty, with rabbish found both on the sand and in the water. It is definitively not a great beach for swimmers, but there can be quite some animation.
Zushi
- close to Tokyo and popular
Similarly to Kamakura, this is an interesting destination is you really want to have a short, quick dip in the sea and live in Tokyo. The sea is not better than in Kamakura, not is the sand. But there are many activities organized on the beach itself.
Doami-kaisuiyokujo
(胴網海水浴場)
Access : from Misakiguchi station, take Keikyu bus (15 min), exit at Aburatsubo (油壺) and walk (5 min)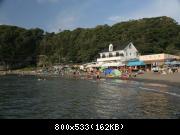 Oura-kaisuiyokujo
(大浦海水浴場)
Access : from Miurakaigan station, take Keikyu bus (15-20 min), exit at Shourin (松輪) and walk (15 min)
Sarushima Island
- small island close to Tokyo with many attractive and unusual features
Small island off Yokosuka (mostly known for its american military bases), Sarushima offers a nice mixture of beach, walk, historical spots and nice panoramas.
The beach itself, officially open in July and August (but which can still be used later in the year), is 170 meters long only and face the coast. It still offers a relaxing dip in the sea. You can also enjoy the visit of some old fortifications built in the late 19th century, enjoy bird watching or look at the panorama from the observation platform on the top of the island.
Access : From Shinagawa, Keikyu Line Ltd. Exp. to Yokosuka Chuo (44 min, 620 yens). From there, walk to Mikasa Pier (15 minutes) and take a ferry to the island. From March 1 to November 30, ferries leave from Mikasa pier from 8:30 to 16:30 every hour (1200 yens round-trip).
English guide :
http://www.city.yokosuka.kanagawa.jp/e/sarusima
---
Shikinejima Island
- a beautiful island not to far from Tokyo, with nice beaches and relaxing surroundings. And... great onsen! Check
Shikinejima page
on this forum for more details!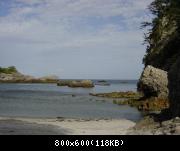 ---
Onjuku
On the west shore of the Chiba peninsula, this 2-km long beach has white soft sand and a very pleasant atmosphere. The quality of the water is usually excellent.
Access : from Tokyo, 1h40 by Ltd. Exp. and JR Sotobo Line from Ohara or Soga (3100-3500 yens), or 2h15 by JR Keiyo Line to Soga and then JR Sotobo Line (1890 yens)