The Akan National Park (阿寒公立公園, Akan kokuritsu kōen) is a volcanic area covered with forests, with several volcanic peaks and craters. It is located in the eastern region of Hokkaido, an area called Dōtō (道東).
Three caldera lakes are also found there: Lake Akan, famous for its marimo algae balls, Lake Kussharo, a resort area with many onsen on its shore and Lake Mashu, a foggy and mysterious crater lake said to be the home of Ainu's gods. This large park - more than 900 square kilometers - attracts between 6 and 7 millions visitors every year, mostly during the summer period.
To enjoy the park, you will need to overnight in it at least 2 nights - and this will only give you a short overview of the area. Visitors usually stays on the shore of Lake Akan, in Akan Kohan, on the shore of Kussharo-ko or in Kawayu Onsen.
---
---
Access
By car
Strongly recommended, a car will allow you to reach most of the interesting spots in the Akan National Park. From 2-3 persons, it probably will also be the cheapest way to visit the area. Also, a car gives you more flexibility to adapt your visit to the weather (it is not worth to go to Lake Mashu on a foggy day, but you might prefer to visit an onsen rather). Driving is fairly easy in Hokkaido. Note that there can be a lot of snow in winter, and that distances can be quite important (that is, outside the park).
By train
Only one line, JR Kushiro Line, is crossing through the Akan National Park, linking Kushiro (south) to Abashiri (north). In the park, trains stop at Kawayu Onsen, between Lake Kussharo and Lake Mashu. Kawayu Onsen is a good base for visiting the park, but trains are very infrequent. From Kushiro, it takes 96 minutes (1600 yens, 4 trains per day). From Abashiri, it takes 106 minutes (1790 yens, 6 trains per day).
By bus
Akan Bus provides infrequent scheduled bus service between Kushiro and Lake Akan (4-5 buses/day) and between Lake Akan, Kawayu and Abashiri via Lake Mashu (2-4 buses/day).
You can find the time table of the buses between :
There is also a
bus making a sightseeing tour
between Akan Onsen - Lake Mashu - Kawayu Onsen - Iosan mountain - Memanbetsu Airport - Utoro - Shiretoko Five Lakes, with enough short stops to visit a little of each place. This can be a very interesting way to travel if you are in hurry and do not want to drive... It is probably the best option if you do not have a car.
Alternatively, some hotels provide free transportation from the surrounding cities for their guests! This seems to be the case for the following hotels:
in Lake Akan Onsen : New Akan Hotel & Akan View Hotel (from JR Kushiro Station and from JR Obihiro Station)

in Kawayu : Misono Hotel (from JR Kushiro Station)
Reservation is required, check
this page
for details and contact the hotel directly.
---
The park has two major areas. The south-west one, including Lake Akan and smaller Lake Onneto, and the the north-east one, with Lake Kussharo and Lake Mashu, as well as the onsen town of Kawayu. To travel from one area to the other, you will need to go out of the park through the town of Teshikaga (also called Mashu Onsen).
A typical journey in the park could be the following:
start from

Akan Kohan town

in the western area, go to

Onneto Lake

(and if possible to Onneto Onsen);

return to Akan Kohan on

Lake Akan

;

go through Teshikaga to the two view points on

Mashu-ko

;

go down to

Io-zan

mountain and

Kawayu Onsen

;

finish on the shore of

Kussharo-ko

.

This route is more or less followed by the
Akan Bus Panorama
, so accessible even to those without car.
---
Onneto Lake
(オンネトー, from Ainu word for "old lake")
Access
: reached in about 20-30 minutes by car from Akan Lake. If you don't have a car, it is perhaps best to skip this part of the trip: there seems to be
only 1 bus per day
going to Onneto Lake.
In untouched surroundings, this beautiful lake is said to change color with the seasons and the weather, and is called "Goshiki-numa" - five-color pond - by local people. There is a walking path leading visitors to the best viewpoints of the lake, with beautiful views on active volcano Me-Akan-dake (1499 m, Female Mountain). This volcano is famous among hikers, but might be closed for safety reason (sulfur fumes). It is also the highest peak in the park. Onneto lake is really worth a stop.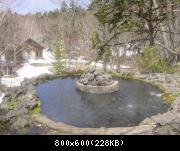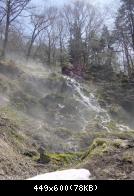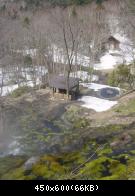 From there, you can walk to the
onsen Onneto yu no taki
(オンネトー湯の滝), which is reached by following a nice 1.6 km trail in the forest, leading to a waterfall where a small bath has been built. This onsen is just under the waterfall (in fact, the fall is more like water running down along steep rocks: but since that water is hot, the sight is quite impressive); there is a small changing area next to the bath. Bathing is mixed here, but many wear swimming costume, especially when the bath is crowded (which can happen often in summer). Climb to the top of the waterfall, there is a beautiful view on both the onsen and the forest. This onsen is very unique as it contains large amount of manganese oxide, formed by microorganisms present in the water.
Akan Kohan
(阿寒湖半) and
Lake Akan
(阿寒湖, Akan-ko)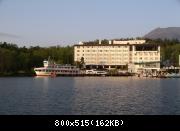 On the south shore of Lake Akan, this town is not really charming. There are big, concrete hotels along the shore and relatively few attractions. It is still a good base to visit the west part of the National Park. Walking along the shore is recommended, especially in early morning. If you walk from the town to the east, you will reach the Akankohan Eco Museum Center at the end of a town and an onsen for feet only. Continue to walk along the shore, there is a nice 30-minute path crossing through a primeval forest of pines, from where you will be able to get nice views on the lake and the town, and see some bubbling mud, bokke (ボッケ), formed because of the volcanic activity of the area.
Ainu-village
(アイヌコタン): a small folk village, located inside Akan village, where visitors will find mostly wood carved souvenirs and local artifacts. Can be worth a stop, although mostly aimed at selling omiyage. See
this page
for details.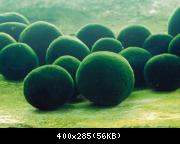 Akan Lake is famous for the marimo algae (毬藻), also called Cladophora ball, Lake ball or Moss ball. Although this green algae is found in many lakes of the northern hemisphere, only in Lake Akan do such balls reach up to 30 cm of diameter, displaying a characteristic velvet color. See this
Wikipedia article
for more details. Marimo are strictly protected now, but you can see some of them in the Akankohan Eco Museum Center (phone 0154-67-2785, open from 9:00 to 17:00 or 19:00 in July/August, free entrance), located at the east end of the village.
Finally, a cruise on the lake is a must-do (from end of April to middle of November). Note that the lake is frozen a large part of the year, usually until May!
For more information on Lake Akan and the surroundings: Akan-ko Onsen Tourist Association, phone 0154-67-2254, open from 9:00 to 18:00.

Check the
part 2 - Mashu, Kawayu Onsen
for the second part of the trip...