If you only want to make a day-trip from Tokyo, there are three main destinations that you should look at... Here is a small abstract on each of these, as well as some hints to help you select one !
Kamakura
link to the guide (in French)
from Shinjuku : 790-890 yens, 1h15
This is the easiest to access and cheapest of the three destinations. Kamakura, which was the capital of Japan from 1192 to 1333, has not only the biggest Buddha in Japan (Daibutsu) and lots of great temples, but also nice walks in the forests and a large beach (which is however not the nicest you can find in the area).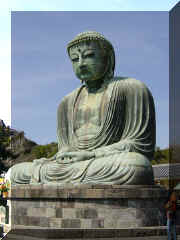 A suggest journey would be to get off the train at Kita-Kamakura, and visit the surrounding temples (Engaku-ji and Jochi-ji); then head to the south, visit the Zeniarai-benten temple and finally reach the Daibutsu. After that, you can continue to the Hase-dera temple, and eventually reach the sea. From there, it takes 10-15 minutes to walk back to Kamakura station. Alternatively, you can take the Enoshima line from the Hase station, and enjoy the sea coast scenery to Enoshima (
link to Enoshima guide (in French)
). From there, direct trains go back to Tokyo.
---
Hakone
link to the guide (in French)
from Shinjuku : 2020 yens, 1h25 (cheaper trains available, but journey is then significantly longer). Passes are available: they are a real bargain!
One of the most famous places in Japan, both for foreigners and locals. Mostly known for the pictures of Lake Ashi with the Fuji-san in the background. The scenery is really stunning, and several other attractions are also interesting, namely onsen and volcanic activity.
See the above-mentioned article for a suggested itinerary including bus, boat, ropeway and cable-car!
Keep in mind that while the trip can be really rewarding, it can also be extremely depressing, especially if the weather is not nice, and the Fuji-san can not be seen. Furthermore, the whole area can be very crowded, especially during holidays. If possible, go there during the week, and only if the weather looks good.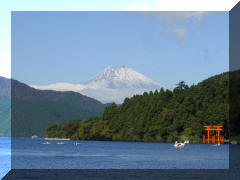 ---
Nikko
from Ueno : 2780 yens, 2h10 (people with JR pass will travel faster by using shinkansen trains)
Entrance of the Nikko National Park, the small town of Nikko is mostly famous for Toshogu, a complex of heavily decorated shrines. Surrounded by forests, Nikko is located in a large area which offers several attractions, including the large Chuzenji lake with the 97-meters high Kegon waterfall. However, the lake itself is quite far, and it takes 50 minutes (1100 yens) by bus to reach it from Nikko. If you really want to enjoy the whole Nikko area, you might choose to rent a car to reach the Chuzenji lake and continue to Nikko-Yumoto, a small onsen town in the national park.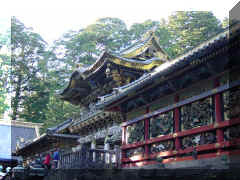 ---
Now, the most important :
how to choose between the three
:
My condensed advise: head for
Hakone
if the weather is really fine - if it is cloudy, then it is not that interesting, except if you have no other opportunity to soak in an onsen. If the weather is not perfect, then visit
Kamakura
- it can be crowded in summer, but it is really full of attractive spots! Choose
Nikko
only if you plan to drive or if you want to see some extra temples; Nikko is relatively far from Tokyo, so it is not so appealing to people who have already seen Kyoto and Koyasan.
originally published :
http://www.secret-japan.com/forum/viewtopic.php?p=150