Location :
Shirakawa-Go (白川郷)
Prefecture :
Gifu-ken (岐阜県)
Attractions :
A World Heritage site with An old Samurai castle town, with dozens of the old wooden farmhouses built 100-200 years ago
---
This is a small farming village in the narrow Shogawa river valley deep in the heart of Gifu prefecture and mountainous Hida country. Although there are a few reasonably modern buildings, the village is notable for having preserved dozens of the old wooden farmhouses that were built one and two hundred years ago. People still live and work in these old houses, and you will sleep in one if you stay here. Visit the
Shirakawa-go English web site
! And check this
great map
, with pictures of all buildings available!
We're not just talking 'farmhouse' here, these are huge three-to-five-story buildings made with gigantic beams and pillars -- all held together with ropes. The thatched roofs are built so high and so steep that it is said to look like putting your hands together to pray. That's what the name "gassho-zukuri" style means. In the old days, multiple extended families of up to 40 people would live in one house. The main floor has very big open rooms with fire pits in the middle of tatami mats, over which hang kettles and drying food.
The village with the best houses is actually named Ogi-machi (扇町), sometimes referred to as Shirakawa-mura (village, 白川村), and the general area around Shirakawa and Sho-kawa villages is properly called Shirakawa-go (the '-go' can mean district or village). However, the main village itself (Ogimachi) is usually promoted and recognized as 'Shirakawa-go'.
---
Getting there
Route 156 from Kanazawa to Nagoya passes through Shirakawa-go, which is only about 4 hours north from Nagoya and over 3.5 hours from Kanazawa (via Jo-hana) on the MeiKan (Nagoya-Kanazawa) Express bus line. There is one express bus leaving Nagoya for Shirakawa-go at 8:20 am. You can also take a train from Nagoya and change to the bus at Shirotori, and this is often necessary because more buses leave Shirotori (several a day) north to Shirakawa-go, but it's not easy to lay out the route and make connections. As you can see, it's not a day trip from anywhere, and as a result sees fewer tourists. There is no train service.
By bus
: this
page on the official village web site
give timetables for buses to and from Shirakawa-go:
Gifu bus
(岐阜バス), phone 058-266-8822 -
Gifu - Shirakawa-go
- possible connections from Nagoya, but not running in winter
Nohi bus
(濃飛バス), phone 0577-32-1688 -
Takayama - Shirakawa-go - Kanazawa
- not running in winter
Kaetsunou bus
(加越能バス), phone 0766-22-4888 -
Takayama - Shiragawa-go
- only company with buses in winter
By car from Nagoya or Kyoto
, it's about 3.5 hours north from the Ichinomiya exit on the Tomei Expressway - or the Ogaki exit on the Meishin Express way - via Gifu city and up route 156 to Shirakawa-go. From Kanazawa, on the Japan Sea coast, it's only about 2 hours if you drive south via route 157 and come across on the Shirayama Super Rin-do, a toll road paved over the mountains. It takes almost 3 hours on the winding route 304 from Kanazawa to Jo-hana and on down route 156 to Shirakawa.
By car from Takayama
, you can follow the bus route along route 158 to the 156, then north to Shirakawa-go in about 2 hours. An alternative route is to head north on route 41 to Furukawa, then west on route 360 across Amasei(?) Toge pass, and passing by a few waterfalls before hitting route 156 near Shirakawa in about an hour and 45 minutes. See the "Getting There" section for Takayama (above) on how to get there.
If you're leaving Shirakawa by car, why not just follow route 156 all the way north to Takaoka, then drive around the entire Notto Hanto (peninsula), which brings you right down to Kanazawa. You might be able to do that in one day, but why not stay out somewhere on the peninsula?
There are no big towns in this area, and few stores of any size. So stock up on whatever snacks or provisions you think you might want before leaving the city. The roads to Shirakawa-go are sometimes snowed in for a while in the winter, but they try to keep the main route 156 open most of the time. It would certainly be a quiet and cozy place in winter, but call ahead to see if any body's home and check on road conditions.
To see
Well, just look around your inn. It should be a couple hundred years old, with a huge thatched roof that is replaced every five years. Then wander around and look at all the other great farmhouses in the town. Locals are used to this and, although they are not museums, you may be invited to walk in and look around several buildings. They are proud of their heritage and welcome the modest tourism revenues it brings in. One of the largest houses has been turned into an interesting open-air museum. If you're here in the springtime you may get to watch a communal effort of re-thatching a house or two.
One of the best houses was removed years ago to Takayama to become the nucleus of the Hida Folk Museum. By the way, the "gassho" praying posture used in Asia ('wai', in Thailand) has the fingertips together, but the palms held apart by touching thumb tips; this gives you a better idea of the "steeple" shape that the houses resemble.
On the south side of the village is a nice local shrine, in traditional (un-sinocized) Japanese style, and its pleasant grounds. Just north of town is a hill that you can climb or drive to for a very nice overview of the village, surrounded by green fields, green forests, and the Shogawa River. Other than that, there is not much else to see in the town, but it is still a nice place to just stroll around leisurely, or wander off into the hills or countryside. It took long enough to get here, so why not just kick back for a couple of days?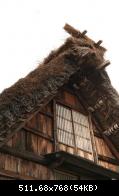 About 25 kilometers south of Shirakawa, you can turn west at Hirase and drive several more kilometers up a road to see the Shimizu-no-taki waterfall. It falls over 200 feet and the pictures of it look pretty good, anyway. If you have a car, you could stop by there on your way.
Very near Hirase, but off a different road to the west, is a solitary hot-spring inn with traditional wooden tubs. I know because I saw
this photo
in the brochure; and there are also pretty young women in these wooden tubs happily pouring sake for each other, and they have "delicious mountain vegetable and river fish cuisine". Is it really a nice place, or just another roadside attraction? Who knows (this isn't a professional guide), but if you have a car, you could drive down and ask if you can pay just to take a bath. Then you could check the place out, and see if it might be nice to stay there later. I think it's just called Hirase Onsen (平瀬温泉). There are
several onsen
in this town.
Staying
At least a dozen of the special old farm houses are set up for taking in lodgers, and operate like minshuku. Since all the houses take one or two days off per week and some don't do business in the low seasons, the best thing to do is to ask at the Shirakawa-go Association right on the main road, which acts as a tourist information office, lodging agent, and external liaison. In fact, the families prefer that you deal with the association, who will set you up with the right place. But you can bet it will be a very old "gassho-zukuri" farmhouse - that's all they have. Their phone number is just below.
The prices are reasonable minshuku rates, and the facilities are basic-to-crude, befitting such historical buildings - but always very clean. They have small bath and toilet facilities, and there is electricity and maybe even a space heater in your room. The few rooms are small and distributed up steep stairs on various floors. In the morning and evening, you eat your meal in the communal dining room, which is the same as the communal living room, which is the big open "hearth" room on the bottom floor. Here you sit on the tatami mats around the old fire pit and your meal is served on trays before you.
Part of the service is for someone in the family of the house to spend a little time after dinner talking about the town, history, house construction and what life was like here 50 or 100 years ago. This can easily become an interesting round-table discussion where the guests also get to know each other, and it is not unheard of to order a few bottles of beer or sake before the questions trail off. Well, that's how I remember it, anyway. As I recall, some of the inns have video tape machines where they also show an informative video created by the Shirakawa-go Association.
To reserve ahead of time, or for other tourism information call the Shirakawa-go Kanko Kyokai (Tourism Association) at 05769-6-1013 or 05769-6-1751; don't expect any English, but you never know. Or check the link section for a list of accommodations.
Special Event
One of the quaintly unusual events in Shirakawa is the Doburoku Matsuri, or "Grog Festival" (my translation). Doburoku is the rawest form of sake, probably not far removed from what that first person to ever 'make' sake accidentally discovered in a misplaced rice bowl a millennium or two ago (
English web page
).
Doburoku is white and thick and it has chunks of rice and bits of chaff in it; it also smells and tastes like your rice has gone really bad. (The next step beyond this would be some straining and minor filtering and diluting, which would produce niGOri sake -- still white and weird-tasting, but approaching civilization.) Doburoku is rarely sold in bottles; it is occasionally dispensed in very obscure drinking houses to people who should know better.
But in isolated Shirakawa-go, the locals have poured their hearts and souls (not to mention their livers) into making doburoku for centuries. After all, they never got anything from the outside world. The festival takes place for a week in October and the doburoku flows until no one is left standing. (Or so I am told by friends who have attended.)
There are also parades, dance performances, and religious rites. Naturally it's fun and interesting, but Shirakawa is so small that it quickly gets overrun with tourists, not to mention news crews looking for an interest story (every year). Getting a room is something you arrange very, very far in advance. And of course the town is not at all its quiet self during the crush of festivities. The Shirakawa-go Doburoku Festival is held from the 14th of October to the 19th. The picture is taken from the official web site (!)
Link
The World Heritage Shirakawa-go has a
list of accomodations
and a
list of restaurants
.
Shirakawa Village has a
web site in English
with a web cam.
A map of the area can be found
here
, as well as a detailed map of the town
here
.
There is also a good
JNTO pamphlet
on Takayama & Shirakawa-go.
This text was published on Randy Johnson's Favorite Getaways In Rural Japan, which is probably the most comprehensive guide for serious travelers in Japan. Reproduced with the permission of the author.
Pictures are from sanji's collection.