Location :
Okukinu
Prefecture :
Tochigi-ken
Attractions :
remote area - not accessible by car - offering beautiful nature and several ryokan with nice mixed onsen
When :
anytime except winter
Access :
- by car, about 180 km from Tokyo via Nikko and Kuriyamam-mura; if you have more time, you can go through Chuzenjiko Lake (the large lake behinf Nikko), and then use a small, mountain road to reach Meotobuchi (the road is really scenic, but don't try to use it in winter and when the weather is bad);
- by public transportations, it will be more complicated, and probably more expensive too if you do not travel alone: take the Tobu Ltd. Exp. Kinu from Kitasenju or Asakusa to Kinugawa Onsen (about 2 hours, 2800 yens); change to the bus to Meotobuchi (last stop, 106 minutes, 2060 yens - for information, call 0288-97-1178).
Internet :
Yunishigawa, Kawamata and Okukinu
- official Tochigi web site (in English)
---
The Okukinu Onsen area is called "the home of secret spas". Haccho No Yu, Teshirosawa, Kaniyu and Nikkozawa are some of the hot springs located within this wild area, which is accessible only by foot (although some of the ryokan have a shuttle bus). Should you have time, and provided that you spend one night in one of those ryokan, you can walk from Okukinu Onsen to Oze marshland, an incredible marsh located at an altitude of about 2000 meters. The whole area is designated as a National Treasure. Especially in autumn, there can be lots of people staying overnight, and you will need to book in advance.
Map of the area: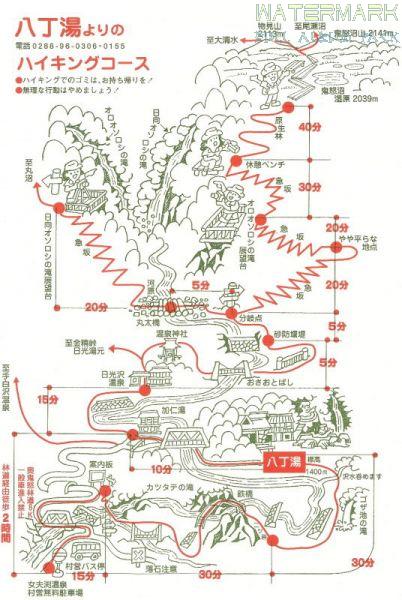 (source : scan of the map given to us at the Hatcho no Yu ryokan)
Hereafter, we describe here four ryokan and hotels we visited...
---
Meotobuchi Onsen
(女夫渕温泉)
Address : 栃木県塩谷郡栗山村川俣荒井田880-2
Phone : 0288-96-0001
Internet :
www.meotobuchi.com
Nyuyoku (onsen only) from 8:30-15:00 (1,000 yens)
Meotobuchi Onsen marks the entrance of the Okukinu Onsen area... and the end of the road open to private cars. This large hotel offers a pleasant bathing, after a long journey by car or bus, and before starting the walk to the more remote ryokan. A large number of outside baths (10 mixed + 2 women only) are available. Note than, in the whole Okukinu area, most of the baths are mixed one!
At Meotobuchi Onsen, most of the baths are located on the shore of a beautiful, small mountain river. Unfortunately, they are quite packed together, and this onsen looks a little too artificial.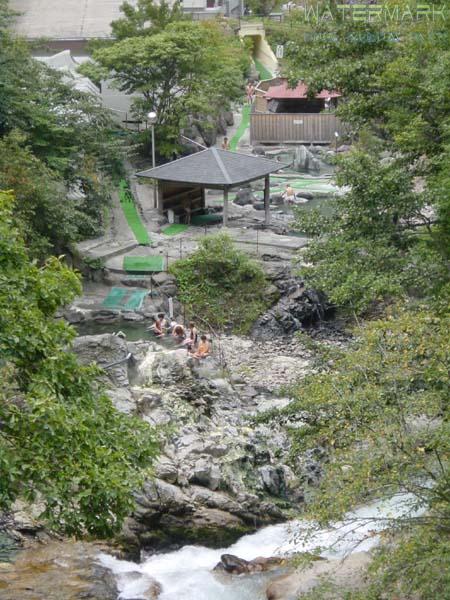 There is obviously no interest to spend the night in this hotel. Head rather toward the following ryokan.
---
Hatcho no Yu
(八丁の湯)
Address : 栃木県塩谷郡栗山村川俣876
Phone : 0288-96-0306
Internet :
www.8tyo-no-yu.co.jp
Nyuyoku (onsen only) from 9:00-15:00 (500 yens)
This ryokan is reached either by bus or by foot from Meotobuchi Onsen. If you do not plan to hike that day, it is worth to walk - mostly in the forest - to Hatcho no Yu. In that case, keep in mind that the bus driver can carry the laguages of guests staying overnight. Although the walk is supposed to take 90 minutes, it can be done in less than an hour.
The ryokan consists of a main building - which includes the bathing area and the restaurant - as well as separated bungallows built with canadian wood, which are nicer but more expensive.
When we visited the ryokan, it was completely full - about 120 guests for 35 rooms. We however never had the impression that the place was crowded place, and really could enjoy this rustic area. Take a look at the official map of the ryokan...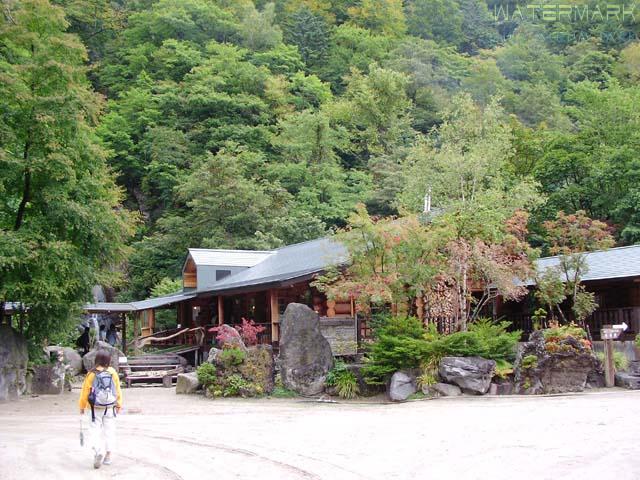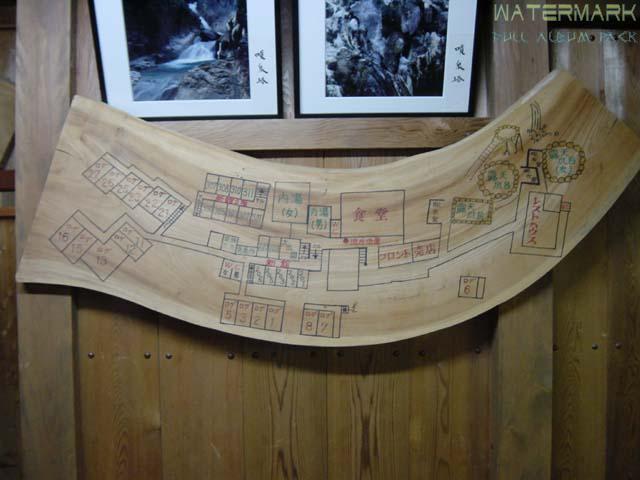 The best feature of the ryokan is obviously its four outside baths - while the largest one is unappealing and the smallest one is... too small, the two last baths are located respectively close to the bottom and at 3 meters of the top of a waterfall. The view is stunning, especially with a glass of sake in your hand. In the evening (the baths are opened all night, but the lightening stops at midnight), bathing there is even better!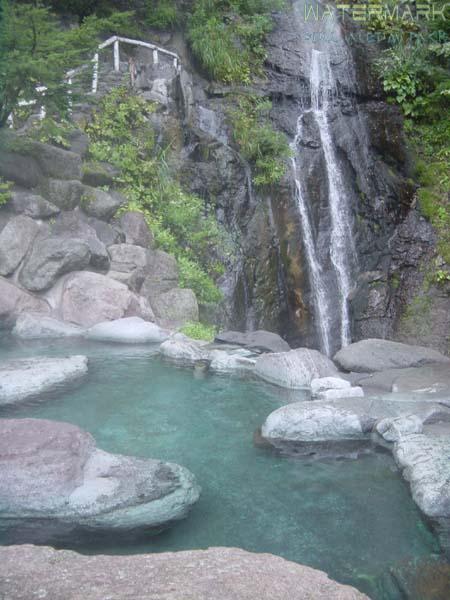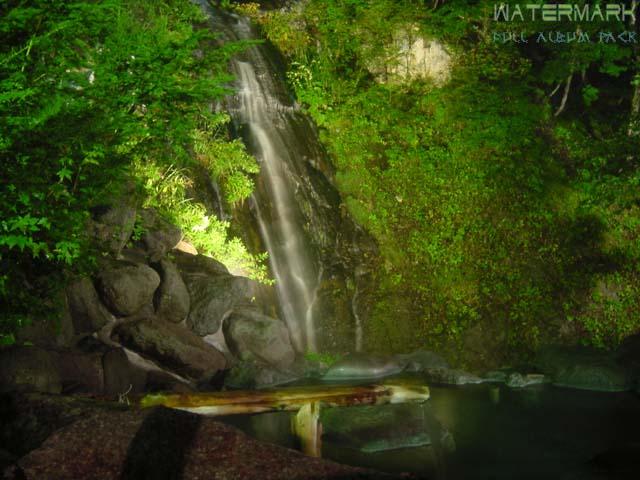 ---
Kani Yu Onsen
(加仁湯温泉)
Address : 栃木県塩谷郡栗山村川俣871
Phone : 0288-96-0311
Internet :
www.naf.co.jp/kaniyu
Nyuyoku (onsen only) from 10:00-15:00 (500 yens)
Kani Yu is just 10 minutes by foot from Hatcho no Yu. This ryokan also offers a transportation by bus from Meotobuchi Onsen. Unlike Hatcho no Yu, Kani Yu is a concrete, three-stories building with a large number of outdoor baths, which are often featured on TV shows. The water has a white color, due to sulfur suspensions. Here, you can find large mixed and segregated baths, small baths for 1 or 2 persons, private baths that can be reserved for couples of friends. Most baths are built with rocks, but some are in wood. All have views on the nearby river or mountains. You can spend hours there visiting all of them...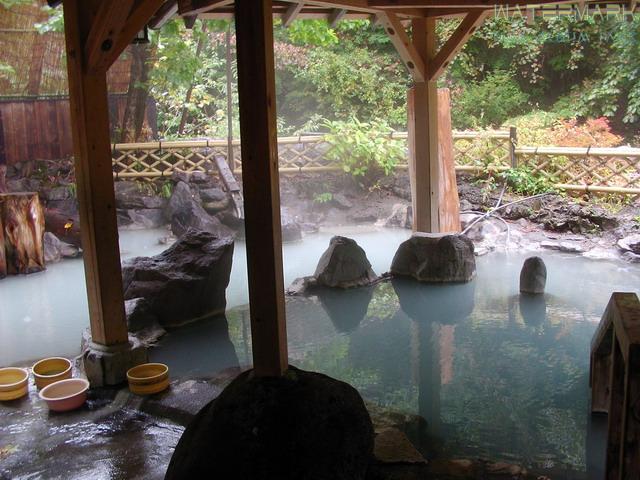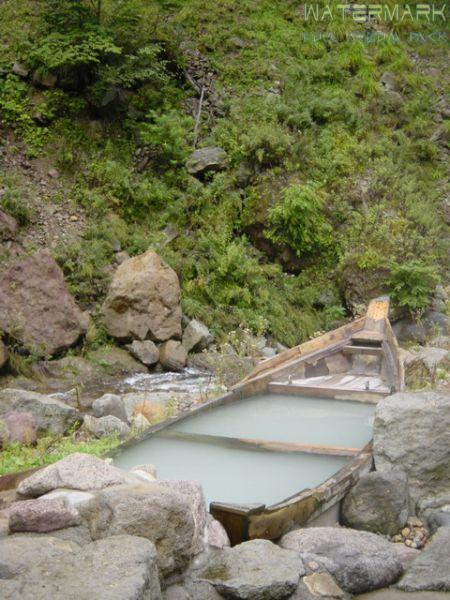 ---
Nikkosawa
(日光澤温泉)
Address : 栃木県塩谷郡栗山村川俣
Phone : 0288-96-0316
Non-official web site :
www.hikyou.jp/totigi/okukinu/nikkousawa/nikkousawa.htm
Nyuyoku (onsen only) from 10:00-15:00 (500 yens)
If you want to reach Kani Yu Onsen, you will need to walk! There is no bus service offered, which means a 90-120 minutes walk from Meotobuchi Onsen. Or about 15 minutes from Kani Yu Onsen. To reach the place, you have to follow the river upwards from Kani Yu Onsen (you can use both shores).
This ryokan is really old, and definitively is showing its age! Entirely made of wood, it is much more rustic than Hatcho no Yu. We have not stayed there, but were very disappointed by the rude welcoming of the owner - when asked if we could have a look at a room, we were just told that the ryokan offering no bus service, we probably would not want to stay there!
There are two outside mixed baths: one contained a transparent water and one with a large amount of white suspension. In the latter, a dead frog was floating... There is a fence to block the view from people looking at a nearby waterfall... which means that the waterfall can not be seen from the bath. Let's finish by mentionning that there are no changing room, and you will understand why this onsen is not really recommended...
---
Interesting links
Pre-proj.net
- list of mixed onsen with pictures, information and link (in Japanese).
Some links to Japanese web sites with information on trekking in the area :
www.naf.co.jp/kaniyu/trekking2005.stm
www1.u-netsurf.ne.jp/~tamu/34kidonumashitsugen.htm
voice.lucky-bits.com/light/2000/20-8-3/8-3.html
null