Location :
Mount Aso (阿蘇山, Aso-san)
Prefecture :
Kumamoto-ken (熊本県)
Attractions :
Mount Aso
Opening hours :
from 8:30 to 17:30 (March 20 – October 31), 17:00 (November 1 – November 30) ou 16:30 (December 1 – March 19)
Price :
free access (charge for the cable car, which is absolutely not needed)
Access :
car - 80 minutes from Kumamoto, 120 minutes from Oita City and Beppu;
train and bus - from Aso station, 40 minutes of bus (Kyushu Sangyo) to Asozan Nishi (7 trips a day, 540 yen) followed by 4 minutes by cable car (every 8-15 min, 600 yen) or a short climb by foot, recommended.
Internet :
www.aso.ne.jp
(official web site with many information) and
JNTO guide
.
Aso is a volcanic area featuring one of the largest active volcanoes on earth, Nagadake (altitude 1'506 meters). Due to volcanic activity, the access is sometimes closed for safety reasons but I was lucky, there was no such restriction on that day. The weather was a bit foggy, not the best for taking pictures but awesome in terms of atmosphere.
In Japanese, the word for volcano is 火山, which literally means a "fire (火) mountain (山)".
At the background on the following picture is the area where the crater can be viewed: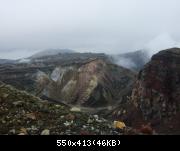 On the left, shelters have been built in case of emergency.
The best moment is when you reach the edge and see the crater at the bottom, it is just a grandiose sight! Over the years, rainfall created a lake and that seemingly alive milky blue water is beautiful!...as well as impressive, with a feeling of power that is hard to describe...
As I was about to leave to reach the other summit I wanted to see, I spotted a path leading to an area where tourists are not supposed to go. They don't know what they miss...I found myself in a totally deserted area with a surreal atmosphere, almost feeling as if I were on another planet! The presence of the fog greatly added to it, and I just can't describe that experience.
As I was progressing, the sulfur vapors were getting more and more dense...because I was getting closer to the crater, except this time I was coming from behind. And I eventually reached it...As I stuck my head over the final hillock, all of a sudden I felt the power of the volcano...And this time, there was no security barrier, I was right at the edge of the crater!
Sure, it was stupid to get so close: first, it is quite slippery and second, the amount of sulfur is extremely high. But anyway, it was an exceptional experience I am not going to forget anytime soon. My legs were still shaking when I left...
To finish, I went to the summit of Nijitake, an extinguished volcano located nearby. Here is what remains of the crater: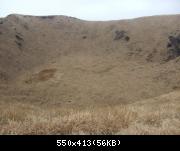 And some pictures of the surroundings:
From what I was told, it is absolutely gorgeous in summer.
There are many hiking trails in the area, I might go back someday...
source :
www.tartoinjapan.com/en/blog_post-42-aso.html