Location :
Kurokawa Onsen
Prefecture :
Kumamoto-ken
Attractions :
located along a river, in the mountains of Kyushu (north-east), this town is renowned for its ryokan and hot springs (onsen).
For onsen lovers, Kurokawa is perhaps the best destination of all Japan. Try to imagine: a small village nested in the mountains of Kyushu, without train access, none of those ugly 8-stories concrete hotels found everywhere in Japan, no
combini
and even better, not a single
pachinko
... Only vintage ryokan with gorgeous outside baths, and guests walking from bath to bath wearing the traditional yukata. If you think that such a place does not exist in this country - and regret it - then Kurokawa Onsen should be your next destination.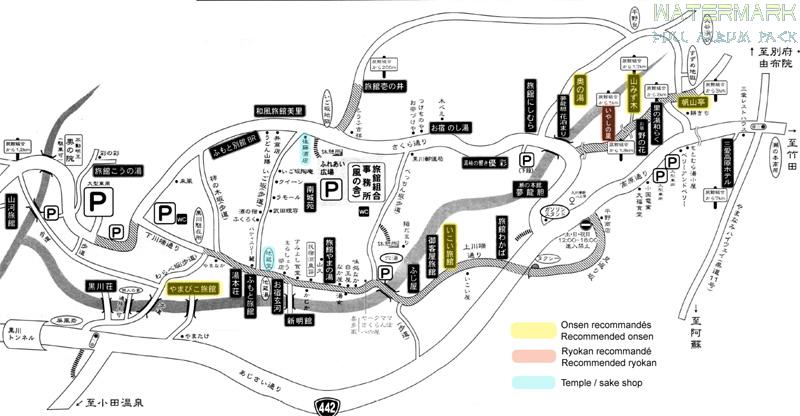 Access :
The only public transportation to Kurokawa Onsen is the bus. Three companies are sharing the market. They have connexions from Beppu, Kumamoto, Aso or Fukuoka.
With Kyushu Sanko:
With JR:
With Nishitetsu Bus:
If you can drive in Japan, renting a car is advised. You then will also be able to visit the surroundings attractions, including Aso volcano. Keep in mind that in Kurokawa Onsen itself, the car is useless: the village is very small, and even if you intend to stay in a ryokan a little further from the town itself (there are some that are quite isolated), there will always be a free transportation organized by the ryokan to bring their guests where they want to go, and pick them back later...
Also, car parking is free in Kurokawa Onsen.
---

RED

ryokan : Iyashi no Sato - Kiyashiki (いやしの里 樹やしき)

1 BLUE

onsen : Yamabiko Ryokan (やまびこ旅館)

2 BLUE

onsen : Ikoi Ryokan (いこい旅館)

3 BLUE

onsen : Oku no Yu (奥の湯)

4 BLUE

onsen : Yamamizugi (山みず木)

5 BLUE

onsen : Hozantei (帆山亭)

S AQUA

sake shop

T AQUA

temple
---
Accommodation
Spending a night in Kurokaza Onsen is
strongly advised
. We can find a
price list
of all ryokan of Kurokawa Onsen. This village is really famous, and prices are quite high, starting from 13'800 yens per person and per night (with two meals included).
This
link
gives directly availability in all ryokan of Kurokawa for the 8 following nights. However, you can not reserve online, you will need to call the ryokan to book a room there.
It is also possible to reserve directly with
Jalan.net
a couple of ryokan (that web site is only in Japanese).
Our recommendation
:
Iyashi no Sato - Kiyashiki (いやしの里 樹やしき)
: A modern, very comfortable ryokan located about 1 km from the town. Beautiful rooms and a superb dinner served directly in your room. Everything in that ryokan was perfect: from the check-in, where you are provided several yukata to choose from, to the service provided outside the accommodation - you are taken by car where ever you want to go in the village, and you will be picked-up a couple of minutes after calling the ryokan.
Baths are nice - but they do not have the gorgeous views you can find in some of the onsen described below - with a large mixed bath and several, smaller, segregated baths.
From 13'800 yens (week days) to 15'900 yens (week-end) per person for the double room, including breakfast and dinner.
Some pictures taken in other ryokan...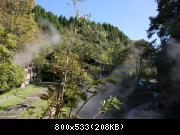 Other interesting spots: a small temple (mark T) located in front of the Shinmeikan ryokan, where visitors are often leaving their used "onsen pass". There is also an excellent shop with some high quality local sake (mark S), available at very atractive prices...
---
Onsen
This is the most important object you will use in Kurokawa! This round piece of wood, with a string to carry it around your neck, is your entrance ticket for Kurokawa hot springs!
This pass can be purchased at any ryokan, costs 1200 yens, is valid 6 months and allows you to soak in 3 different onsen. Simply show it at each onsen you would like to visit: a stamp will be added and the bath will be yours to enjoy. Visiting an onsen only to enjoy the bath (day trip only) is very easy in Kurokawa, and it is also rather inexpensive. Finally, the used pass is also a great souvenir for Japanese people.
Alternatively, you can pay directly at the entrance of the ryokan if you want to visit just one place - the entrance fee is then 500 yens.
Most of the baths are open to visitors from 8h30 to 21h00.
With 24 onsen - all with outside baths - it can be pretty though to select which place to soak in! Here is a list of 5 ryokan which have some of the best rotenburo of Kurokawa Onsen (not having seen all of them, you might find some other great, too); they are numbered on the map, from the left to the right:
Yamabiko Ryokan (やまびこ旅館) : a really huge shallow rotenburo surrounded by trees - you definitively will need some time to enjoy that bath;

Ikoi Ryokan (いこい旅館) : In the heart of Kurokawa Onsen, this cute ryokan has smaller outside baths with only limited views, but also with lots of vegetations around them;

Oku no Yu (奥の湯) : Just next to the river, a couple of hundred meters from the village, with a large bath and another, smaller, directly next to the water opposite a waterfall; there is also a cave bath;

Yamamizugi (山みず木) : A beautiful bath just next to the river, but a little far from the town itself;

Hozantei (帆山亭) : A narrow but long bath nested next to a stream and offering a nice view on a small waterfall lighted at night.
For more details, see Kumamoto-ken onsen on Secret Onsen
.
For those interested, here is the
list of baths with the chemical properties of the spring water
.
---
One reason why staying overnight is a must is the pleasure of wandering in the village wearing a yukata, walking from one bath to another... Especially in the middle of the afternoon and early evening, most of persons you will see in town will be wearing that traditional clothes. There is virtually no car in the center of the village.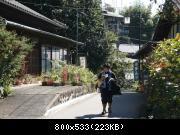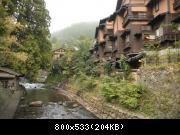 ---
Links


http://www.kurokawaonsen.or.jp/date/data.html : Some maps to download and print;

http://www.kurokawaonsen.or.jp : Official Kurokawa web site (interesting information, but browsing is difficult and internal links tend to change too often).