Kurama and Kibune are two very small towns located 10 km north of Kyoto. While Kurama is known for its onsen and famous temple, Kibune is an upscale resort place with expensive ryokan.
Kurama (鞍馬)
The small village of Kurama lies at the foot of Mt Kurama. Isolated in its valley, the town is quiet, but famous both for its onsen and Kurama-dera, a Buddhist temple founded in the 8th century.
Access : 30 minutes from Demachiyanagi station in Kyoto via the Eizan Railway (get off at the terminus, Kurama station, 410 yens).
Kibune (貴船)
Kibune is known for its expensive ryokan located along a small river, a very nice place to spend some hours in the heat of the summer, especially if you can afford a lunch or dinner on the platforms built over the river.
Access : 27 minutes from Demachiyanagi station in Kyoto via the Eizan Railway (get off one station before the terminus, Kibune-guchi station, 410 yens). From that station, either walk along the road toward the town (about 20 minutes) or take Kyoto bus 33 (5 minutes).
---
---
Attractions
Hiking
is a popular activity, with a relatively easy journey between Kibune and Kurama, which are located in two adjacent valleys. This 2-hours walk can be done in both directions, but starting from Kibune would allow you to enjoy a dip in Kurama Onsen after the walk.
The hike starts from a small bridge over Kibunegawa (貴船川), and immediately climbs on the mountain. The path is quite steep, with many stairs and roots, so good shoes are recommended. Several small sub-temples are found along the path, but they present only limited - if any - interest. However, the trees are spectacular, and the sight is really refreshing in summer.
Close to the summit, there is the Yoshitsune Sekurabe ishi (義経背比べ石), a large stone which Minamoto Yoshitsune used to compare his height while being trained. After reaching the summit, the path is leading down to the main temple, Kurama-dera (see below). It is also the first place where drinks are available. From there, a small road leads to Kurama; this side of the mountain is usually much more crowded than the Kibune's one...
Kurama-dera
(鞍馬寺)
According to the legend, this shrine was founded in 770 by a former monk from Nara, who is said to have seen the deity Bishamonten, protector of the northern part of Buddhist heaven, on this spot. Because the north is considered as the cardinal point from which evil spirits can come, this shrine located directly on the north of Kyoto was supposed to protect the capital from such attack.
Minamoto Yoshitsune, a famous warrior from the 12th century, is said to have been trained in the mountains around the temple to the martial and military arts by Sojobo, a
Tengu
. Those mythical creatures, with incredible fighting skills, are featured in many legends all around Japan, and represented by a red mask with a long nose; such large Tengu mask can be seen next to Kurama station.
Kurama-dera used to belong to the Tendai sect, but created in 1949 a new nature-centered sect called "Kurama-kyo".
Buddhist lectures
are available twice a month.
All three pictures from Wikimedia Commons (I unfortunately lost my own shots)
Opening time
: 9h-16h30
Price
: 200 yens
If you do not want to make the whole trek between Kibune and Kurama, the temple can still be reached in about 40 minutes by foot from the onsen (even less if you take the cable car, which will bring you halfway up).
Kibune (貴船)
Kibune is known for its expensive ryokan located along the small Kibunegawa river, on which platforms (
yuka
) are built every summer, allowing guests to eat and drink while sitting just above the water - a true delectation in the heat of summer!
This is an expensive leisure, though, with lunches starting from 6'000 yens, and dinners from 10'000 yens! Many ryokan are offering such course, like for example
Ugenta
; see their web site for details and reservation.
Here is a picture of a dinner served on such platform at the
Kibuneso
ryokan.
source :
www.kibunesou.com/syokujisyashin2.jpg
Kurama Onsen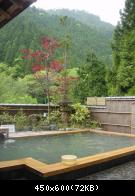 Kurama has a very nice onsen, which is quite popular as it is one of the closest from Kyoto.
Address
: 〒601-1111 京都市左京区鞍馬本町520
Access
: 10 minutes by foot from Kurama station, following the main street uphill.
Phone
: 075-741-2131
Opening time
: 10h-20h
Price
:
- 2500 yens for accessing both the inside and outside baths (towel, bath towel and yukata are provided)
- 1100 yens for accessing only the outside bath; this is probably the most interesting option for a short visit, as it is really more affordable, and the main interest of the place is, indeed, the rotenburo.
Check also
Secret Onsen - Kurama
for much more details on this onsen.
---
Links
Kyoto - Kibune
: some pictures of Kibune and descriptions of main shops and ryokan.
TravelLady Magazine - Hotsprings and a Holy Mountain
: and excellent illustrated articles on Kurama and the surroundings.
Pictures from Kibune