Location :
Kerama islands (慶良間諸島) - Tokashiki (渡嘉敷島) and Zamami (座間味島)
Prefecture :
Okinawa-ken (沖縄県)
Attractions :
tropical waters and scuba diving
When :
year-round, but summer can be really hot there!
Access :
the Kerama Islands are served by the Kerama Airport, located on Fukaji Island (外地島)
Why would one want to stay in Naha while there are beautiful islands nearby? Not even one hour from Naha by boat, the Kerama archipelago is a good choice for those who would rather relax than stay in town.
Here again, renting a car or a scooter is necessary unless you want to stick to the harbor area...and trust me, that's the last thing you want to do.
As the only attraction is the sea, I guess most pictures do not need any comment. Let's begin with various shots of Tokashiki and Zamami, the two islands I visited:
albumimg]1435[/albumimg] albumimg]1436[/albumimg] albumimg]1437[/albumimg]
The environment is particularly suited to diving and snorkeling: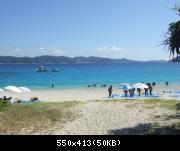 In fact, it would have been a shame not do my first dive in such a beautiful environment. I was just not lucky enough to see Okinawa's famous coral reefs which are disappearing due to global warming and pollution, and one needs to go a little off the coast to see the best species. Still, the diving spot I was taken to was beautiful, with a perfect weather:
I found Nemo, still with his father after the events: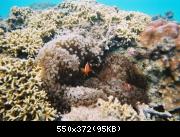 That diving experience made me realize how difficult underwater photography is. Stabilization, random movement of the fishes, light issues etc, are just additional considerations to deal with.
But what an awesome experience! Since then, I've been considering taking the "PADI Advance Open Water Diver" license, which however is worth only if I go diving frequently. I'm still thinking about it...But anyway, back to the beach, the water was really warm (about 75°F at the end of october) so I stayed there to swim after the diving session. Besides a couple other tourists, there was an "unidentified swimming object" of decent size:
Until the head popped out of the water:
Here are some closer shots: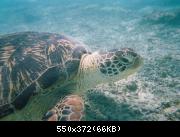 source :
www.tartoaujapon.com/en/blog_post-151-kerama.html