On a sunny day I went to Kawaguchiko, one of the five lakes surrounding the great Mt. Fuji, but a big cloud decided to ruin my trip by covering the mountain top...
Access
by train
Shinjuku to Kawaguchiko station, by Chuo Line and Fuji-Kyuko Line, 2h47, 2560 yen
by bus
Shinjuku bus terminal to Kawaguchiko station, by Keio Bus and Fujikyu Bus, 1h45, 1700 yen
for reservation, telephone 03-5376-2222
---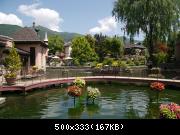 河口湖UKAI オルゴールの森 (Orugouru no mori)
Open - from 9:00 to 17:30, all year round
Entrance fee - 1300 yen
Address - 山梨県南都留郡河口湖町河口3077-20
Telephone - 0555-20-4111
Internet -
www.ukai.co.jp/musicforest
Similar to Huis Ten Bosch in Kyuushuu, Orugouru no mori is a random European-themed garden with lots of flowers and macro opportunities. It is way smaller in scale, but it does not have god awful rides and a huge debt like HTB. It was a gorgeous day to use my new macro lens.
---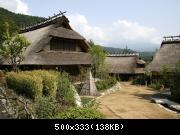 西湖いやしの里根場 (Iyashi no sato NENBA)
Open - from 9:00 to 17:00
Entrance fee - 200 yen
Address - 山梨県南都留郡富士河口湖町西湖根場2710
Telephone - 0555-20-4677
Internet -
www.fujisan.ne.jp/iyashi
Sato nenba is a "restored" Japanese village that was destroyed by typhoon. I got to see lots of traditional pottery, paper goods, samurai outfits…etc., but not Mt. Fuji. No, I am not bitter.
This is how Nenba should look like :
---
富岳風穴 (Fugaku Wind Cave)
Entrance fee - 280 yen
Address - 山梨県南都留郡鳴沢村鳴沢8533
Telephone - 0555-85-2300
Internet -
www.fujikyu.co.jp/cave
There are a few interesting lava caves in the Kawaguchiko area. I picked the one with icicles called 富岳風穴 (I have no idea how to say it). I had really low expectation before I went in. There was no one there except me and the old guy collecting the 280 yen admission at the gate.
This was the very first time I felt scared traveling on my own. It was really cold and dark down there. The ground was very uneven and slippery and there was freezing water dripping down my neck all the time. It seemed to take forever to walk to the end of the cave and the bamboo handrail was wobbly at best. The whole time I was thinking, "I can get murdered down here and no one would even smell the body", "Please don't slip, please don't slip", "Oh no, my dslr is gonna get wet".
Another cave is located nearby : Narusawa Ice Cave (鳴沢氷穴)
It was a really nice day trip despite the stupid cloud. The three hour bus ride from Tokyo station to Kawaguchiko was well worth it. Check out the rest of the photos
here
.
---
Links
JNTO
- pdf pamphlet on Fuji Five Lakes.
Text and pictures were first published here, on www.siuyee.com web site.