Location :
Ishigaki
Prefecture :
Okinawa-ken
Attractions :
Gateway to Yaeyama-shoto, this island has many facilities for visitors and offers nice beaches and many water sports
Source :
http://www.wonder-okinawa.jp/006/english/point/ishigaki/images/map.jpg
High-resolution maps in pdf format can be found here :
www.city.ishigaki.okinawa.jp/en/tourism/map/map.htm
When :
All year round; sea can be rough in winter, especially on the northern part of the island; Ishigaki is very busy in summer and during Golden Week; best time to visit seems to be in May (after the Golden Week) and June, but September to late October is also an interesting period...
Access :
by flight from Naha (main island of Okinawa), although there are few direct flights from Tokyo/Osaka. Alternatively, the island can be reached by ferry for travelers with enough time: there are 4 connections per week with Naha and Miyakoshima, and the island is a stop on the weekly slow ferry linking Keelung (Taiwan) – Ishigaki – Osaka – Nagoya.
Important comment for people flying to Ishigaki!
The price of the airfare from Tokyo can be really expensive, as you can count typically on 45'000 yens for a 1-way ticket! If you are arriving from abroad, take advantage of the different flight passes available (JAL or ANA ones), which can cut the price to a more reasonable one-way price of 10'000-14'000 yens. If you are living in Japan, you should check the prices of tour including flight + hotel (offered by JAL and ANA): if you travel outside the peak season, you probably can find packages including the flights and 1 night in a hotel/minshuku from 30'000 yens – almost 1/3 of the price of the flight only. Keep in mind you can always take 1 night only, search other hotels by yourself and stay longer on the island.
Also, construction of a new airport is planned. Ishigaki Airport's runway (ISG) is too short to allow planes to take off with enough fuel to reach directly Tokyo. The new airport will have a longer runway, but its construction is encountering oppositions.
Overview
On the 50'000 people living on the island, 45'000 of them are residing in the largest town, Ishigaki-shi, located on the south coast. It is developed around its harbor. While there are no real attractions for the visitors there, many restaurants are found close to the harbor, as well as a shopping arcade hosting a market (selling mostly local products for souvenirs).
There are nice beaches east to the town of Ishigaki, close to the airport, where the large and expensive ANA hotel is located.
However, visitors might prefer to stay in the north-west part of the island, on the peninsula of Kabira. Over there, scenic areas and beautiful beaches are found.
---
Going around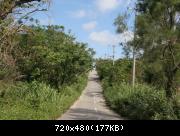 A car is the most convenient way to travel around. Streets are large, driving is easy and it is anyway difficult to get lost. Several interesting areas can only be reached by car. Most Japanese car rental companies (Nippon, Nissan, Orix) have agencies in Ishigaki island, usually around the airport.
Alternatively, you can reach Ishigaki town from the airport by taxis or frequent buses (15 minutes), or Kabira by bus (less frequent service, though). There are also two free passes for 5 days: the "Airport Line Kabira Resort Line Free Pass" (空港線・川平リゾート線5日間フリーパス) costs 1000 yens, and allows unlimited journey on those two lines, while the "Michikusa Free Pass" (みちくさフリーパス) is valid on all lines of the island (2000 yens).
If you have reserved an accommodation, you might be able to arrange for a free shuttle to and from the airport.
---
Attractions
A typical tour of the island starts from Ishigaki city, goes north to Kabira, up to the northern tip of the island and returns to Kabira following the east and south coast. You will need a car for such a tour, which will take the whole day. Even if you don't plan to use a car a lot during your stay in Ishigaki, you should consider renting one for one day, as it would allow you to see a lot in a relatively short time.
Ryugujyo limestone cave
: close to the town of Ishigaki, on the way to Banna observatory, those large cave are worth a visit, especially if the weather is not that nice.
Bannna forest park and botanic garden
: A very nice botanic garden, which is more a forest located on a 230-meters high hill. Entrance is free, and there are places available for picnics. Beautiful vegetation, really worth a small visit.
A short trip to the
west coast
is worth the trip: many mangroves can be found there, and the scenary is completely different at low and high tides.
Kabira
(カビラ) : peninsula located on the north-west of the island, hosting several hotels and minshuku. The area is famous for diving, and many dive shops are located there. The town itself is very small; it is easy to walk around. Kabira-wan is a famous sheltered bay from where glass-bottom boats are bringing tourists on the top of corals (1000 yens). This bay is seen on most advertisement for Ishigaki, but swimming is not allowed there. Nearby Sukuji beach is often suggested as alternative for people willing to dip in the sea; the beach is very nice, but the lagoon so shallow that swimming is almost impossible…
The road 79, leading to the northern part of the island, is really nice, with small villages and many view points to stop at.
Hirakubozaki Observatory
(cape Hirakubo) : the northern end of Ishigaki Island, on the east coast. An area where few people only are living, but several ranches with cows can be found. There is only one road (206) on the Hirakubo peninsula. The observatory itself is next to a light house, on the top of a small hill (to find the place, you will need to turn left before the road comes to an end – check for the sign). Beautiful views on the island and on the sea. The area is always very windy.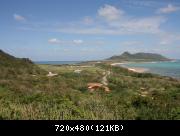 Tamatorisaki observatory
: at the beginning of the Hirakubo peninsula (the peninsula on the north-east of the island), on road 390, this observatory is a famous tourist spot, with a kind of refuge built on a hill and overlooking the east shore of Ishigaki. Hibiscus are planted all around. On your way down from the observatory, you will find a small café house on your right: a tiny terrace of a private house where the owner serves drink and snacks – a recommended stop.
From there, it is a short trip back to Ishigaki city, following the south coast, where villages and hotels are found.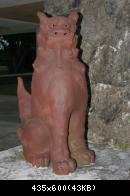 You will often see on the roofs of buildings or at corners some Chisa, a famous Okinawan lion. It is used to protect people from evil (see
here
for some details on that legend).
---
Scuba diving
: Iriomote, like Ishigaki, is famous for divers. However, this is unfortunately a very expensive leisure in Japan, and you will have to count around 12'000-13'000 yens for 2 boat dives, plus 5000 yens is you need to rent the equipment. While corals are found more or less all around the island, diving sites around Kabira are known for the regular presence of manta rays, which explain the large number of diving clubs located in this north-west area. If you specifically intend to dive with manta, you better select a diving center in the Kabira area. However, many dive boats also leave from the Ishigaki harbor, diving mostly on the southern and western coast or around surrounding islands. Overall, the diving in nearby Iriomote is, however, more interesting, as the diving sites there are less crowded.
I have dived with several dive centers on the island, and I confidently recommend you the following one:
Umicoza
(海講座) : Located in Kabira, at just 200 meters from the see, this diving center is one of the few where good English is usually spoken. Even their web site is partially translated in English! Nice divemasters, boats are OK, and most importantly they are only 10 minutes away from the Manta Ray Scramble (マンタスクランブル), the famous dive spot where manta can be seen more than 80% of the dives!
Phone : (980) 88-2434, email : manta@umicoza.com
---
Where to Stay
Jo-ya
: Located in Kabira, just 200 meters from the beach and close to several diving center. Unlike many minshuku, this one is a large, comfortable building with 6 or 8 tatami rooms which all have a small bath and toilet. There is a huge terrace on the roof of the minshuku, from where the sea can be seen. A large room is used for serving the food – TV and computer with internet access also available. For a modest 6'000 yens (with breakfast) or 7'500 yens (with breakfast and dinner), this place is a bargain.
Phone : 0980-88-2717
East China Sea Hotel
: Just in front of the ferry terminal, this tall tower is easily noticed. The hotel itself is more like a comfortable business hotel, but it is worth to mention it for two reasons: it is often offered in packages with the flight to Ishigaki, and is perfectly located if you plan to just stay a short time in Ishigaki before going to another island by boat. There is a Chinese restaurant in this hotel, where breakfast is also served. Note that rooms can be noisy due to the ferry terminal; try to get a room on the upper stories. Also, many rooms really smelled tobacco a lot...
Phone : 0980-88-1155
Club Med Kabira : Located at the tip of the Kabira peninsula, this large hotel is in a beautiful kind of park. The usual activities are offered (swimming pool, beach, squash, volley, etc.). However, the hotel seems not very attractive: it is showing its age, and the inside of the hotel lacks charm). It is also extremely expensive, although you might find interesting packages from Tokyo. Transportation to and from the airport is provided.
---
Where to Eat
Umiya (海やー) : Located in Ishigaki town (address : Ishigaki-shi 10-19), this izakaya is located on the second floor of a building on the main road close to the ENEOS gas station. Lots of food from the sea, including of course many sashimi dishes. Prices are low. Open from 17:00 to 24:00. Phone number : 0980-83-6065.
Take
: A local izakaya featuring inoshishi (wild pork) and Ishigaki beef. While the former is quite tough meat and the latter is very expensive (4000 yens for a 250-g steak), they are specialties from Ishigaki and worth a try. Not gastronomical food, though! The menu offers lots of choice anyway (try the excellent taco rice). Open from 11:30 (week days) or 15:00 (Sat & Sun) to 1 am. Phone number : 0980-88-5641.
---
Guide Books
You can find almost everywhere the following free publications: "Yaeyama Navi" and "Tanoshima Island". Entirely in Japanese, they are still useful with maps and listing of restaurants, diving clubs, attractions, etc. Grab one!
Interesting Links
Ishigaki Island
: site in English made by the Okinawa Prefectural Government, with most interesting points of the island described and located on an interactive map of Ishigaki. Very useful site!
Wikitravel
on Ishigaki; many information in English, featuring the famous and less famous tourist spots.