Location :
Iriomote
Prefecture :
Okinawa-ken
Attractions :
Emerald sea, great beaches, tropical forest, good diving and hiking...
When :
All year round; sea can be rough in winter, and the island is very busy in summer and during Golden Week
Access :
from Ishigaki island by boat (35-50 minutes); Ishigaki can be reached by plane from Naha (capital of Okinawa) or even by direct flight from Tokyo/Osaka
Although slightly larger than Ishigaki Island, Iriomote Island is far much less crowded, with only about 2000 residents. Iriomote can be classified as one of Japan's last frontier. It is even refered to as the "Galapagos of Japan". The island is covered at more than 90% with dense tropical / sub-tropical vegetation, and surrounded by pristine waters. The average temperature is 24°C (from 17°C in winter to 32°C in summer). The name of Iriomote is famous worldwide for its rare lynx, which was spotted for the first time in 1965, and is called Yamaneko (Iriomote wild cat). Around 100-200 of them are living on the island, and sometimes - although rarely - spotted by tourists. Signs on the road will remind you to drive slowly and carefully to protect them? 150'000 people visit the island every year! Especially from July to September and during Golden Week, reservations are absolutely necessary as accommodations go fully booked. It is also possible to enjoy a day-trip to Iriomote from Ishigaki, but you probably will have to limit your visit to 1 or 2 attractions.
---
Going there
There is no airport in Iriomote, and therefore the gateway to the island is Ishigaki. Two ferry companies have boats making the journey between the islands:
Yaeyama Kanko
(八重山観光, phone 0980-82-5010) and
Anei Kanko
(安栄観光, phone 0980-82-2691). Boats leave from Ishigaki harbor, in front of the East China Sea Hotel. It takes about 40 minutes to Ohara (1540 yens) and about 50 minutes to Funaura (2000 yens, Anei Kanko only) or Uehara (2000 yens, Yaeyama Kanko only). Free bus shuttles are offered by the ferry companies to most of the tourist attractions, so you can easily reach your destination after arriving on the island. When the sea is rough, the ferries to Funaura and Uehara are very likely to be canceled. In that case, you will have to go to Ohara, and then take the free shuttle to the Uehara area (about 1 hour, total price 2000 yens). Especially in winter, those cancellations are very frequent, and the only way to reach Iriomote might be through Ohara. Plan carefully your return trip if you have to catch a plane.
Link
to a web site with all timetables.
Going around
There is only one main road on the island, which starts on the south-east Ohara (大原), follows the east and north coast to Funaura (船浦) and Uehara (上原), and ends in Shirahama (白浜) on the west shore. The largest town in Ohara, while most of the hotels and minshuku are located on the north-west area, close to Uehara.
There are public buses, but they are very infrequent (just a couple per day); you can find the timetable on the
www.iriomote.com
server (select バス on the left menu). There is a free pass available, which let you ride all buses during 3 days for 1000 yens - an excellent offer if you intend to use buses to go around.
Most hotels will give you a lift to the closest attractions; also, when you book any activity or visit, you probably can arrange a free pick-up. If you want to visit a little more independently the island, a rental car can be very handy. Count between 4000 and 7000 yens per day.
---
Attractions
Urauchi River
(浦内川) : on the west coast, between Uehara and Shirahama, this river (which is the longest in Okinawa) goes deep inside the mountains of Iriomote. As a matter of fact, it is the only easy way to reach the tropical forest inside the island. It is therefore a very popular attraction, and it probably will be the highlight of your stay in Iriomote. River tour boats are leaving close to the Urauchibashi bus stop. The departure schedule is changing with the seasons, but there are frequent boats in the morning, usually from 9:30. It takes 30 minutes to reach the beginning of the trail which cross the island from the Urauchi River to Ohara. The return journey costs 1500 yens. The shores of the river are covered with mangroves (usually in the water at high tide, the mangroves are sometimes surrounded by sand at low tide).
From the beginning of the trail, the river changes from a dark tropical Amazon-like river to a crystal mountain river. It takes about 30 minutes to the best view point, Tenbodai (展望台) ; this small hut is located above the forest, and offers great view on the Mariyudu Waterfalls (マリュドゥの滝), which can be reached by walking 10 more minutes.
5 more minutes will lead you to the Kanbire Waterfalls (カンビレーの滝). Those waterfalls are quite impressive, especially as you can approach them very closely. There are small pools in the river where you can dip in. If you continue on the trail for just a couple of minutes, you are certain to get rid of the crowd and easily find a nice spot to enjoy a refreshing bath?
If you have more time, an alternative is to take to river tour boat to the beginning of the trail, and go back to the starting point - after walking to the falls, of course - by canoe. The combined tour cost 6000 yens, and departure are only in the morning (9:30 usually).
Internet :
www.urauchigawa.com
Phone : 09808-5-6154
Many visitors have heard about the trek across the island. If you are interested, a word of warning by
jamlyt
on this forum :
Quote: › I just finished my trip. It was a lot of fun, but word of warning, the trail is a wreck. I guess the typhoon that scored a direct hit in 2007 has done a lot of damage to the trail. There were a lot of landslides, and very narrow patches in the trail. I would not recommend this trip without at least 7 meters of wet rope and a couple of caribiners.
We did not use a guide, but I would recommend one. I have a lot of experience in the jungles of S.E. Asia, but there were a couple of times where it would have been nice to have some local knowledge of the trail.
The two campsites are actively used and easy to identify once you get there.
Most of the trail is pushing through thick foliage so prepare to be wet.
Hoshizuna no Hama
(星砂の浜, Star Sand Beach) : It might be difficult to swim from this scenic beach, as the sea is really shallow there, but the view is really great. Furthermore, the sand of this beach is very particular: many grains have the distinctive shape of a star (there are only 2 beaches like that in Japan, the second being on the close island of Taketomi). In fact, this "sand" is a microscopic shell (around 1 millimeter),
Baclogypsina sphaerulata
. The sight of Japanese getting out of big buses and immediately filling bottles of sand is also worth the trip!

Iriomote Shima Onsen
(西表島温泉) : The only onsen (hot spring) of the island is located between Ohara and Funaura. It has traditional segregated inside and outside baths, as well as sauna. To access the larger, mixed outside baths, you will however need to wear a swimming costume. The largest of the bath is made of stone and covered by a roof (and is quite hot, about 42-43°C); three smaller outside baths are located close to a nearby river (a little cooler, 33-35°C). A sauna with windows and a large swimming pool are also available. From 12:00 to 22:00, entrance fee : 1200 yens.
Yubujima
(由布島) : A very touristic tiny island located on the east shore of Iriomote. Rice used to be grown on this island until 1969, with the help of water buffaloes, when a typhoon let to so much damages that inhabitants left for Iriomote. Yubujima is nowadays featured on most postcards with a water buffalo pulling a cart filled with Japanese tourists. If you want to try that journey for yourself, it would cost you 1300 yens (price including a fruit juice on the island?s restaurant). On the other hand, it spending such huge amount for a 5-minutes journey is not appealing to you, note that you can walk toward the island (at the low tide, the depth is about? 10 centimeters). It will still cost you 500 yens, as the island itself is a sort of mini-zoo. Among interesting part, you can observe the water buffaloes resting in pools, there is an interesting display of butterflies, and the small Melanesian Pavilion is worth a visit. Yubujima can be visited from 9:15 to 16:15.
Scuba diving
: Iriomote is famous for its diving. However, this is unfortunately a very expensive leisure in Japan, and you will have to count around 14'000 yens for 2 boat dives, plus 5000 yens is you need to rent the equipment. Most diving spots are located on the west and south-west area of the island, as well as on the east coast. There are excellent spots with marked relief (tunnels, cracks, etc.). Corals are in excellent shape, and many fishes can be spotted. However, there is only limited amount of large animals. The manta, indeed, are usually spotted only on the east side of the island, and only during summer. A very important information for divers: when the wind is blowing from the north, it is very often not possible to dive on the outside reef. In that case, diving boats leave from Shirahama and stay in the bay, there shallow dives are conducted on sandy bottom. Unfortunately, such strong wind is often encountered, and boats stay in the bay about 10 days per month (even more in January - February)!
Diving Team Unarizaki
(phone 0980-85-6146)
Perhaps the largest operation on the island. They have three fast and very comfortable diving boats which leaves from different places as function of the planned dives. The only negative point is that during low season, all divers might be on the same boat, which would mean that less interesting dive spots might be selected to fit the needs of beginners.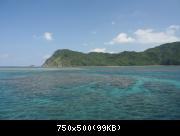 ---
Where to Stay
A general link with information on all hotels/minshuku/pensions of the island :
www.studio56.jp/ritou/iriomote.html
Villa Unarizaki
: Large rooms with a high ceiling, all with view on the sea. There is a large garden (with a small pool and hammocks) in front of those 12 villas, as well as a pleasant private beach. The restaurant is located in a large veranda, and offers a beautiful view on the garden and the sea. 9500 yens per person (in double room), including simple but nice breakfast buffet.
Phone : 0980-85-6146
Pinekan
: A famous minshuku which has the shape of a... pineapple! Good location and cheap price (from 5000 yens per person including 2 meals)
Phone : 0980-85-6408
Painu Moya Hotel
: the hotel where the only onsen of the island is located. Looks like a big hotel, is isolated but still expensive (more than 14'000 yens per person with 2 meals)
Phone : 0980-85-5700
Nilaina Resort
: Small resort on a hill - not for from the famous Hoshizuna no Hama (beach). Very well integrated in the nature, an extremely pleasant and exclusive place which only offers 3 rooms! Enjoy the sunset from the hill while lying in the juccuzi, and have a barbecue under the tropical trees. From 11'500 yens with breakfast. Also a diving center...
Phone : 0980-85-6400
Nirakanai Hotel
: The most expensive hotel of the island: long (almost private) beach, swimming pool, and all of it on an isolated location...
There are also several
campgrounds on Iriomote
(check
this link
and
this one
for maps and more information) :
Haemi Campgrounds, phone : 0980-85-5860 - Adults 400 yen, Children 200 yen (per day)

Hashizunatei Campgrounds, phone : 0980-85-6640 - Adults 300 yen, Shower 300 yen, Tent Rental 500 yen (per day)

Hoshinozuna Campgrounds, phone : 0980-85-6448 - Adults 300 yen, Shower 300 yen, Tent Rental 550 yen (per day)

Mitorea Campgrounds, phone : 0980-85-6610 - Adults 1000 yen (per day)

Because most of Iriomote is a National Park, camping outside designated areas is not allowed.
---
Where to Eat
Villa Unirizaki
: The hotel has a nice restaurant in its walls (see section Where to Stay). Features 3300 and 4300 yens menu, including two starters, soup, main dish and dessert. Local products cooked in a European fashion. The result is interesting, especially considering the reasonable price.
Kitchen Inaba
: The building might be quite unappealing from outside, but the inside decoration is modern and welcoming. The food is very cheap, with fish and meat meals at around 1200-1500 yens (including salad and soup). Smaller izakaya-like dishes also available. The owner has a passion for shamisen, the local instrument from Okinawa. Employees will happily play some songs for you after dinner. An extremely interesting place to have dinner at. The restaurant is located close to the Nirakanai hotel (Uehara 上原 472-6), and there is a figure of a cooking chef next to the road.
Phone : 0980-84-8164
Hook
: To enjoy a lunch with a nice view on the bay. Close to Unarizaki-so (Uehara 上原 99-1).
Phone : 0980-85-6419
---
Interesting Links
Iriomote Island
: site in English made by the Okinawa Prefectural Government, with most interesting points of the island described and located on a map of Iriomote.
Sightseeing of Iriomote Island
: in English, many information on the famous and less famous touristic spots.
Alternative Tourism
: some pictures taken on the island.
Kampira-so is a small hotel offering a great web site in English, with
a comprehensive text on Iriomote including many historical references
as well as a
Sightseeing guide
.