Location :
Hakodate (函館)
Prefecture :
Hokkaido (北海道)
Attractions :
Mount Hakodate and its famous night view, Motomachi and its churches, the sea front with attractions and restaurants, the old fort and nearby hot spring town of Yunokawa Onsen.
When :
all year round - popular in summer, romantic in winter...
---

rail

Hakodate station

M RED

Mount Hakodate

R WHITE

Russian Orthodox Church

E WHITE

Episcopal Church

R WHITE

Roman Catholic Church

O RED

The Old Public Hall of Hakodate Ward

M RED

Hakodate City Museum of Northern Peoples

K RED

Kanamori Red Brick Warehouses

T RED

Goryokaku Tower

G RED

Goryokaku Fort

U BLUE

Umigaki (restaurant)

K BLUE

Kikuyo Shokudo (restaurant)

C BLUE

Hotel Chocolat

Y BLUE

Yunokawa Onsen
Access :
There is an Aomori-Hakodate Free Pass from JR, which allows traveling from Tokyo to anywhere in Aomori-ken and in the southern part of Hokkaido (around Hakodate), as well as anywhere in that area for 7 successive days. This pass costs from Tokyo 29100 yen, which is already a discount of 6080 yen on the single Tokyo-Hakodate-Tokyo journey! The travel to and from that area can be done either by shinkansen or by night train Akebono.
Travel around :
Hakodate has a tram and bus network. The tramway is especially interesting for tourists, as the two lines cover most of the attractions of Hakodate. A single journey costs between 200 and 250 yen, so it can be worth to invest in the tramway free ticket valid 1 day and costing 600 yen (this pass can be bought in hotels or directly in the tramway, and comes with a handy map). The tram network is pretty simple :
-
line 5
starts at the western end of the town at Hakodate Dokku-mae (harbor, foreigners' graveyard), crosses the old Motomachi part to Jujigai ;
-
line 2
starts from the southern part at Yachigashita (large onsen) to Jujigai ;
-
lines 2 & 5
merge from Jujigai and go to the train station, Goryokaku fort and Yonokawa, at the eastern part of Hakkodate.
Note that the tram network stops relatively early, before 8 pm in winter.
Should you want to use the buses too, a one-day pass is 1000 yen, a two-days one 1700 yen.
---
Historical background
Hakodate is the third largest city of Hokkaido (after Sapporo and Asahikawa), with a population of 290'000. Two main events that occurred during the Meiji restoration let to the most interesting spots visible nowadays:
The city occupies a unique position on a narrow band of land linking Mount Hakodate peninsula with the rest of Hokkaido island. Its harbor, very well sheltered because of this peculiar geographic location, was visited by a US fleet of five ships in 1854 (as agreed at the Treaty of Kanagawa), and was one of the first Japanese to be opened to foreign trade (2 June 1859). Hakodate quickly created strong bond with the foreign community: the first US citizen to be buried in Japan was one of Perry's sailor; in 1861, Thomas Blakiston - a British merchant, naturalist and spy - established a saw milling business in the city; and soon, with the foreign community growing, Hakodate opened its first overseas consulates.
The second event was the Boshin War between the Tokugawa shogunate and the Meiji Emperor. A shogunate rebel Enomoto Takeaki fled to Hakodate, occupied the Goryokaku fort and established the Republic of Ezo the 25 December 1866. This republic did not get any international recognition, and the Emperor army fought back and captured the city in 1869, effectively terminating the Boshin War.
---
Accommodation
The type of accommodation choosen probably determine the area you will be staying. Most of pensions are located in Motomachi, while hotels are usually found between the train station and the Bay Area. Note that it takes less than 20 minutes by foot from the station to Motomachi.
Hotel Chocolat
Phone : 0138-26-1330
Address : 1-1 Otemachi, Hakodate - 北海道函館市大手町1-1
Internet :
www.hotelchocolat.jp
Ideally located with the station and morning fish market at 10 minutes by foot, Motomachi at 10 minutes and the Bay Area at 5 minutes, this simple 6-stories hotel offers comfortable rooms in modern settings. The rooms themselves are relatively large for Japanese standards and very clean, while the bathrooms have a more typical small size. Internet available in all rooms (free modem rental). A good Japanese or Western-type breakfast is available on the second floor. Most importantly, the staff is extremely friendly and helpful. The general Manager, Tomoko Iino, speaks perfect English and can recommend restaurants and places to visit. The price for a double room starts at 8000 yen – a real bargain.
---
Restaurant
If you like sea products and especially seafood, Hakodate is really a nice place to visit! Among specialties are the salmon, salmon eggs (
ikura
) and sea ursin (
uni
), and of course crab (
kani
). In almost all restaurants/izakaya you will find those dishes served as
donburi
, that is directly on a bowl of rice.
Kikuyo Shokudo (きくよ食堂)
Phone : 0138-22-1994
Address : 北海道函館市豊川町12-9
Opening hours : 11:30-15:00 & 17:30-23:00
Internet :
www.abs-plaza.com/kikuyo
There is a large dining room with a very high wooden ceiling, with a counter and tables, as well as a more classical tatami area. The building itself is recent, and the atmosphere is very pleasant.
The food menu focuses on local sea products, including crab, fish and seafood. Among the recommended dishes is the salmon, excellent in sashimi, and the crab, the local specialty. One of the popular dish in Hakodate is the donburi with ikura, crab or uni (a bowl of rice covered with salmon eggs, crab or sea ursine); in Kikuyo Shokudo, they are served in three different sizes, a good opportunity to taste more exclusive donburi like an uni one. If you want to drink some sake, there is a good selection of high-quality brands from Hokkaido, as well as two sets of 3 glasses to help you make find your favorite.
Umigaki (海がき)
- Daimon-ten
Phone : 0138-22-5905
Address : 北海道函館市松風町10-1
Umigaki has 4 restaurants in town. We eat at the Daimon-ten, which is conveniently located on the main street leaving in front of the station, less than 10 minutes by foot, direction of Goryokaku.
This is a popular izakaya, with a rustic appearance. In the middle of the main room is a basin with tens of crabs, and guests sit on small tatami rooms or at the counter. The sashimi are strongly recommended, as it is usually a great opportunity to enjoy less common raw fish (link a hokke sashimi); their whale food is also worth a try! Grilled fish and crab are excellent, too.
---
Visit
Mount Hakodate
Opening hours : 10:00 - 21:00 or 22:00
Fee : by
cable car
, 1160 yen return ticket (1050 yen discount ticket available in all hotels)
by
bus
, 360 yen from the train station (bus pass valid), from April 25 to October 15
Hakodate's most characteristic sight is without doubt the Mount Hakodate, a 334-metre high peak which is located above Motomachi. On the summit, you will find a huge building with several observation decks, restaurants (not recommended and closing early), souvenir shops (cheesy) and the arrival of a ropeway. That ropeway is the fastest access to reach the summit: it takes just 3 minutes from the bottom station located near the churches of Motomachi (closest tram stop: Jujigai). Access by bus is also possible, but it takes 30 minutes.
The view from the summit is breathtaking, especially after the sunset. Long queues can be expected during peak season. Still, this is an experience worth the trouble of having to wait.
Motomachi
(元町)
Motomachi is the area between the sea shore and the mountain. On those steep streets, which will clearly remind you San Francisco, many old European-type houses are found with their classical architecture from the late 19th century, when that place was a favorite for foreign residents from Europe, Russia and China. The tourist heart of Motomachi is the area close to the cable car, where three churches, one shrine and one temple are just a couple of meters from each others. Here is a list of the most interesting spots :
Russian Orthodox Church (函館ハリストス正教会)
The oldest orthodox church in Japan. Irregular opening days/hours, but if you get a chance, have a look inside to see the impressive display of icons.
Episcopal Church (聖ヨハネ教会)
Modern architecture. This church can not be visited.
Motomachi Roman Catholic Church (函館 カトリック元町教会)
It is on this spot that the first Catholic missionary, Rev. Fr. Mermet de Cashon, built a chapel in 1861. The present structure dates from 1924, and can be visited.
Those three churches are beautifully illuminated at night, and walking around after the sunset is strongly recommended.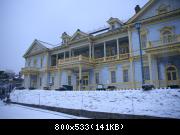 The Old Public Hall of Hakodate Ward
The Old Public Hall of the City was constructed in 1910; it is a nice two-story wooden building, built in a colonial style and characteristic from the Meiji era. Its symmetry and large size makes it one of the interesting spot to visit in Hakodate - an unusual building for Japan...
Link for website in Japanese
.
The Old British Consulate
Built in 1913 in a traditional european-style, this building is showing its age and presents only limited interest, even from outside. It was used as the British consulate from 1934.
Hakodate City Museum of Northern Peoples
(函館市北方民族資料館)
Check
this post
from tinou for more information on this great museum, considered as one of the best for Ainu culture.
Bay Area
(Suehiro district)
The symbol of the Bay Area are clearly the Kanamori Red Brick Warehouses. Those buildings were built in 1909 and host now shops, the Hakodate History Plaza and the Hakodate Beer Hall (函館ビール).
Internet :
www.hakodate-kanemori.com
Address : 北海道函館市末広町14番12号
Nearby was built, in the same red bricks style, a very attractive complex called Hakodate Bay Bishoku Club (函館美食倶楽部). There is an excellent restaurant (Kikuyo Shokudo, see above) and a sushi bar, as well as a great indoor seafood market (函館海鮮市場) and souvenir shop - the perfect place to buy
omiyage
or food to send home if you live in Japan. There is also a wine shop and a foot bath outside (closed in winter)
Internet :
www.hakodate-bbc.net
There are other complexes in that same area, including the Hakodate West Quay (函館西波止場) built directly on the sea shore and the Hakodate Meiji Hall (函館明治館). All together, the Bay Area is a fantastic place to walk around at night, filled with restaurants and bars, and very lively!
Morning Market (函館朝市)
One of the most popular spot in Hakodate, this morning sea food market is located in a building next to the train station. It opens very early and closes around lunch time. Walk around and look at the huge crabs (alive or frozen), stock of uni and ikura and other specialties from Hokkaido; then stop in one of the numerous small restaurant to try the food you have just seen on display! Prices are not cheap at all (a small bowl of rice covered with sea urchins and salmon eggs costs 1500-1800 yen), but this is the freshest food you will find - perfect even for breakfast... There are also many shops outside the main building, and of course you can ask for home delivery.
Goryokaku Tower
(五稜郭)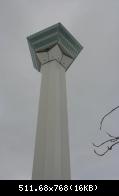 Phone : 0138-51-4785
Address : goryokaku-cho 43-9
Opening hours : 21 April to 20 October - 8:00 to 19:00; 21 October to 20 April - 9:00 to 18:00
Fee : 840 yen (discount ticket available in all hotels)
Internet :
www.goryokaku-tower.co.jp
A new white tower (resembling to an airport tower controlled) built in 2006, on the site of an oldest tower. From the top of this tower, 90 meters above the ground, there is a great 360 degrees view on the city (with Mount Hakodate in the background), and especially on the Goryokaku Fort, which is lying just next to the tower!
In the 360-degrees observation deck, there is also a small exhibition with representations of the most important events that occurred in Hakodate in the 19th century - an effective way to quickly learn about the city and its past (English pamphlet available).
Goryokaku Fort
The design of the fort is based on star-shaped citadel from the 16th century in Europe. This fort has a diameter of about 500 meters, and is also known as the Kameda Oyakusho Dorui or Ryuya Castle.
---
Yunokawa Onsen
Yunokawa Onsen is the oldest onsen town in Hokkaido, and as so it is a popular destination. The town itself comprises almost exclusively huge hotels packed on the shore, with some others on the other side of the main road. There are limited attractions, but most people going there just want to soak in one of the hotels.
To reach Yunokawa Onsen, the easiest is to take the tramway and get out at the terminus, or one stop before it; from there, most hotels are reached by foot in less than 10 minutes.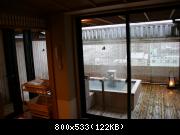 There is no real interest in staying overnight at Yunokawa Onsen: accommodations are expensive, and there is nothing to do out of your hotel. But if you just want to enjoy a bath, we recommend
Yunokawa Kanko Hotel
. Its baths and changing rooms have been modernized recently and are very pleasant. Rotenburo has almost no view, though. There is also an inside "lavender bath": the lavender is one of the most famous herb from Hokkaido, and this bath smells like a whole field. But here is the real secret: while the entrance to the bath cost a hefty 1500 yen, for 2000 yen, you will get the same plus 50 minutes in a private bath - perfect for couples! The kashikiri bath area is located on the 6th floor, and there are 10 different baths that can be chartered.
Yunokawa Kanko Hotel (湯の川観光ホテル)
Address : 湯の川2-4-20
Phone : 0138-57-1188
Entrance fee : 1500 yen – 2000 yen including a 50-minute private bath
Check this link
yunokawa.hakodate.ne.jp/spa.html
for the list of onsen accepting day trip visitors, with access time and price.
Among the interesting spots in Yunokawa Onsen...
Interested by some ramen? There is a "ramen museum" (らーめんブギ) in the Yunokawa Kanko Hotel; several small ramen shops form that attractions, each serving different types of ramen. Worth if you want to eat, as the portions are really generous and the dish tasty.